Add a splash of color to your front door with this carrot wreath. I was able to get all the supplies for this DIY carrot wreath at our local Dollar Store/ Dollar Tree. This Easter wreath is very affordable to make.
Spring wreaths are always so fun to make, but this Easter bunny wreath is one of my favorites. The twine carrots offer a really nice farmhouse Easter decor for your front door. The carrot top wreath makes for a simple Easter theme.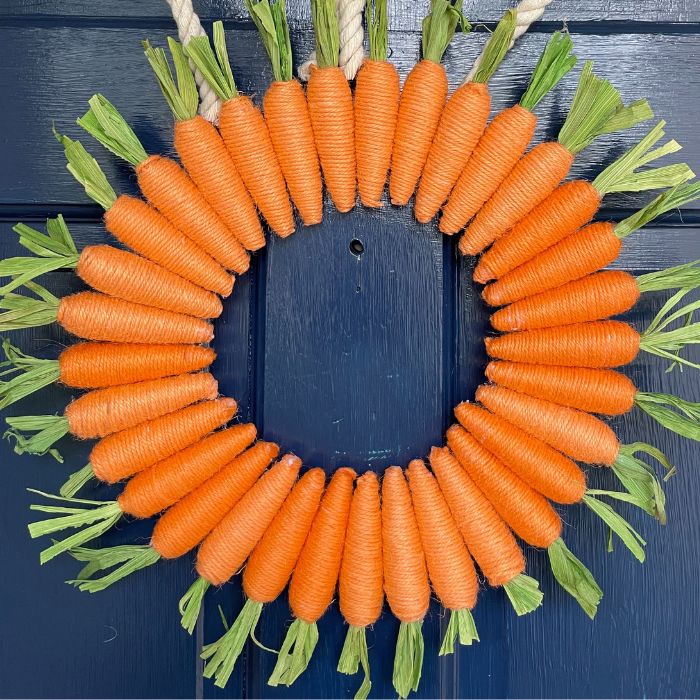 It takes about 30 minutes to make this homemade wreath, plus it is a budget friendly craft. Give this craft a try today to decorate your home or to gift a loved one.
Check out my clay succulents for another fun DIY craft or my macrame rainbow DIY craft. Or check out this pastel rainbow party decoration printable set. This is a great one for any upcoming parties.
What You Will Need
Twine Carrots – You can find these at the Dollar Tree, Dollar General or you could find them online as well.
Nautical Rope – Reach for Nautical rope to create a cover for the metal wreath. It will hide it and allow your carrots to glue nicely.
14 Inch Metal Wreath – Then you can use any size of wreath but I used a 14 inch wreath for this fun wreath. If you want feel free to make it larger or smaller in size.
Hot Glue Gun – Then you will use a hot glue gun or even a glue for attaching the carrots. I prefer to use hot glue.
Scissors – Make sure to use nice and sharp craft scissors. It works best at cutting nice clean cuts.
Variations and Tips to DIY Carrot Wreath
Looking for ways to change up your wreath? If so let me share a few ideas for you, along with tips for success.
You can use plastic carrots or fabric carrots instead of jute twine carrots. They all work and it allows for a variation to the wreath.
Work carrot by carrot so that the hot glue doesn't harden before you get the carrot placed on the wreath.
You could use a foam wreath as the base. I find the metal worked best for me, but feel free to use what you have on hand.
Use a different shape instead of the carrot, bunnies, flowers, etc.
How to Make Carrot Wreath
Full steps on how to make carrot wreath are at the bottom of the post. This is a visual walk through to help you see how to make it.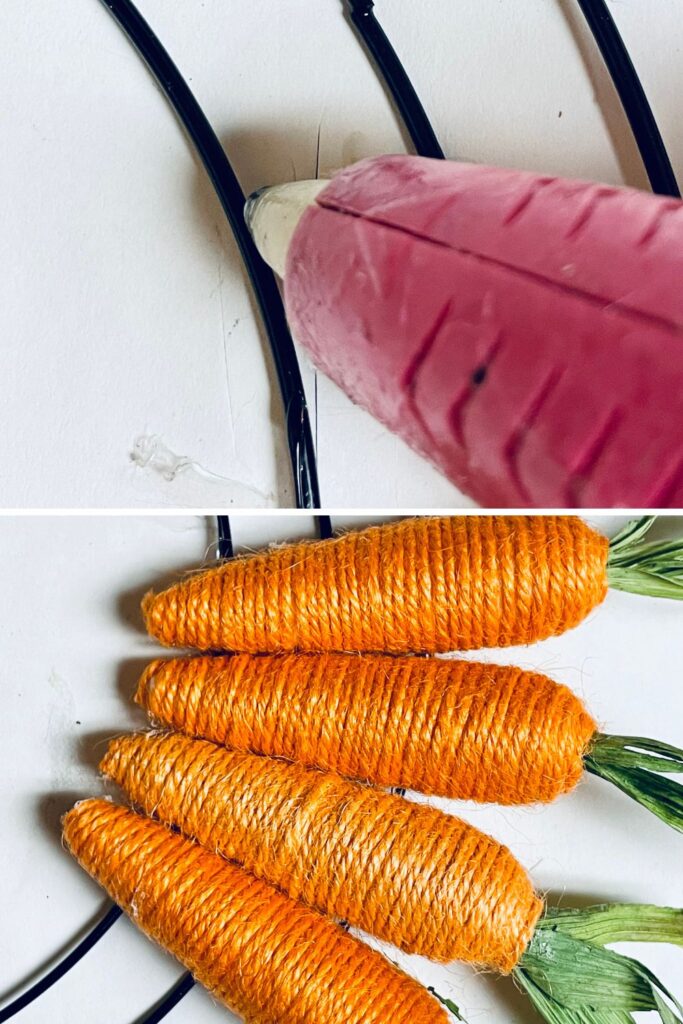 Step One: Glue Carrots On Wreath
You will use a hot glue gun and work your way around the metal wreath. Add dots of hot glue and place each carrot on the glue. Then work all the way around the wreath.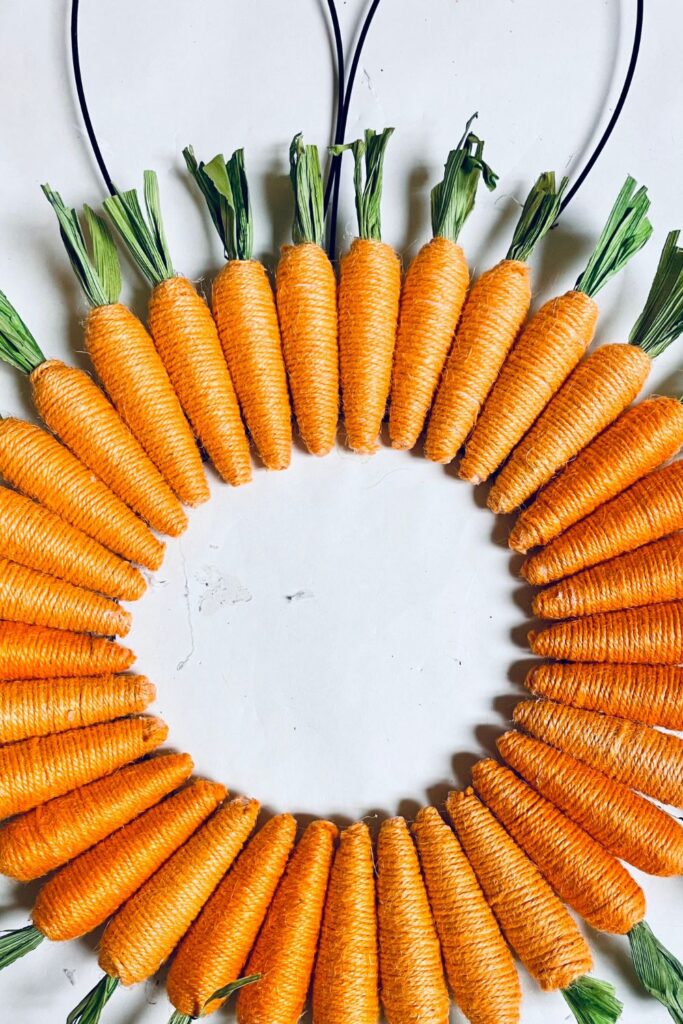 Step Two: Bunny Ears
If you want to make bunny ears you can use some thin metal and shape ears out of it, and wrap at the top of the wreath.
Or you can buy a bunny shaped wreath. Then wrap the jute twine around the ears, and hot glue to secure.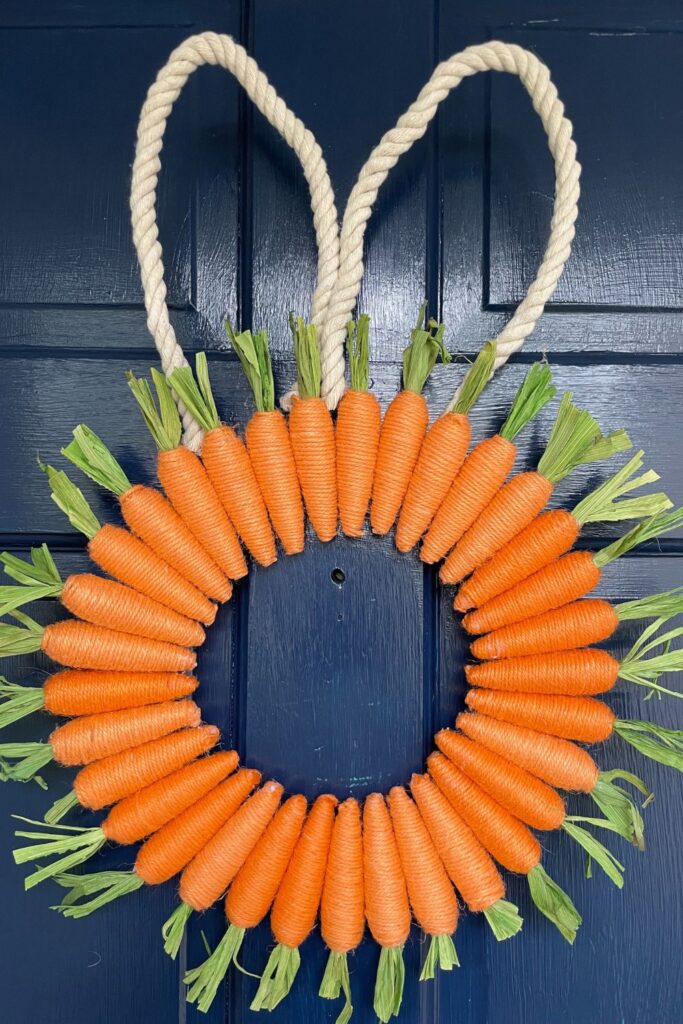 Is it cheaper to make your own wreath?
You will find making your own wreath can be cheaper if you buy budget friendly and affordable items. Otherwise, you will find that buying a wreath is a more financial savvy option.
How long do homemade wreaths last?
Homemade wreaths can last for years if you take care of them. If they are in full sun you will find the wreaths can fade a bit overtime. Otherwise, it can last for years when stored properly.
More Easter DIY Crafts