This fall burlap wreath is perfect for your front door or to hang on a wall in your home. Pumpkin kisses fall wreath adds the perfect amount of fall to your home. An easy beginners wreath tutorial that is simple to make, but offers that store quality design.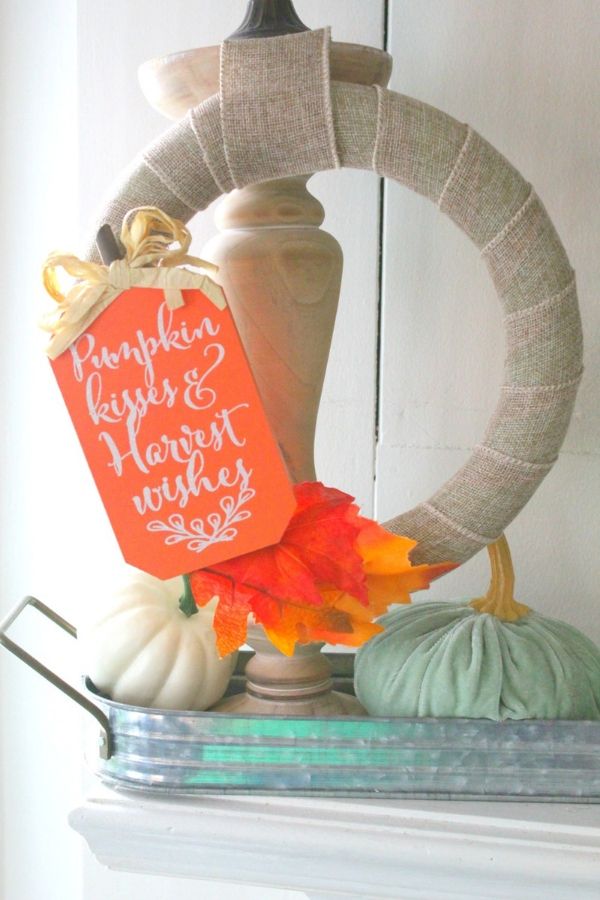 I love wreaths, but I don't always love what I can find in the stores near me. So I went ahead and got supplies to make my own DIY fall wreath to hang in our home.
More Ways to Decorate Your Home
Fall Burlap Wreath
Learn how to make a burlap wreath using a foam wreath base, in literally minutes. While this homemade burlap wreath looks like you bought it, you will be amazed at how crazy simple it is to make.
This wreath will give your home or front door that perfect touch of cozy you are looking for.
Wooden Sign
Foam Wreath
Loose Fall Leaves
Glue Gun & Sticks
Scissors
Wire Edged Mesh Ribbon
Supplies Needed For This Pumpkin Kisses Fall Wreath
You will need a handful of items. You can buy all the items online or even look at your local stores. If you don't want this exact same wooden sign you are more than welcome to buy something else to take the place!
How Do You Make A Burlap Wreath
Making a burlap wreath is easy when you use the wrap technique. You simply start at one end of the foam wreath and work your way around layering the burlap over itself, until you are fully wrapped around. Then cut and glue on the burlap so it sticks to the other piece.
How To Display A Modern Fall Wreath
If you are looking for ways to display this modern fall wreath, let me share some ideas.
Hang on Door
You can simply hang on the front door! You can buy a wreath holder
, that allows you to hang it on your front door without having to put a nail in your door. Or reach for the command strips
that you can easily attach and remove.
Metal Serving Tray
Candle Stick Pillar
Place on A Table
I displayed my wreath on a table in our home. Added some pumpkins and used a wooden candlestick pillar to lean it up against with a candle on top. I find this a really elegant way to place a wreath in your home. I also use my metal serving tray, which I linked to something similar in case you were interested.
Hang On Wall
You could also hang your wreath on a wall in the home. Whether it be by your entryway of the home, or even in your living room. I have hung wreaths on the wall in our living room next to our family photos and such. It adds a nice dimension change to the flat pictures on the wall.
Yield: 1 Wreath
Pumpkin Kisses Fall Burlap Wreath Tutorial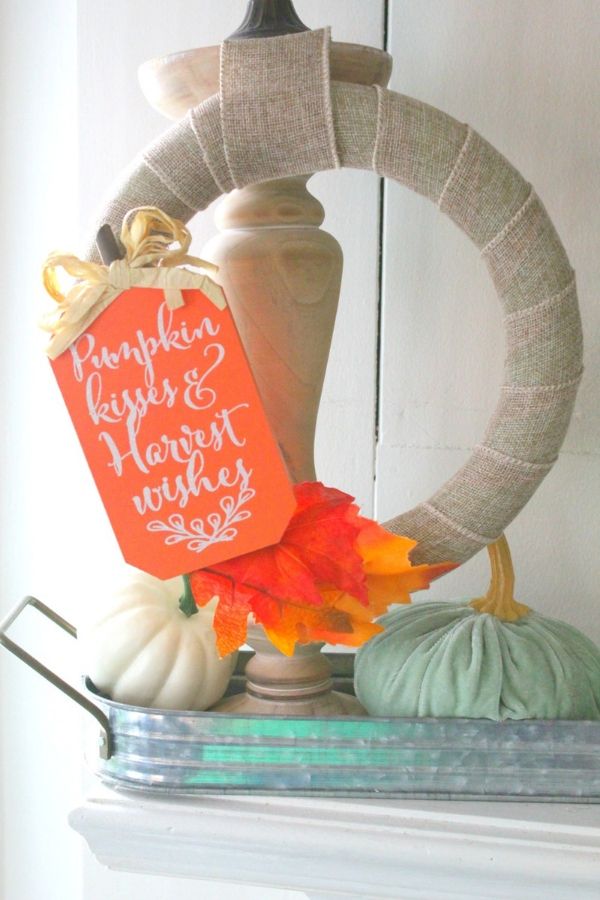 A fall burlap wreath that is so easy to make. This is a modern fall wreath that will add the perfect touch of fall to your home.

Prep Time 5 minutes

Active Time 10 minutes

Total Time 15 minutes

Difficulty easy
Materials
Wooden Sign
Burlap Ribbon
Fall Leaves
Foam Wreath
Tools
Scissors
Glue Stick and Glue Gun
Instructions
Add a few drops of hot glue to the inside of the burlap and secure it to the wreath.
Then slowly begin wrapping the burlap around the wreath, slightly overlapping the burlap to hide the wreath. Wrap it tight so there isn't loose ribbon.
Once fully wrapped, cut off the excess burlap, and then add some hot glue to secure the burlap onto the wreath. I tried to cut and tuck the glued side to the back of the wreath.
Take a few silk leaves and add a few dabs of glue to the back. Press to the wreath form. Off to the bottom/side is ideal. Glue a small cluster of leaves for your wood sign to rest on.
Now you can add a very generous amount of glue to the back of the wood pumpkin sign. It will be slightly heavy so it is important you don't skimp on glue here.
Then press the wood sign to the wreath, just over the cluster of leaves. Allow your wreath to fully dry.
Recommended Products
As an Amazon Associate and member of other affiliate programs, I earn from qualifying purchases.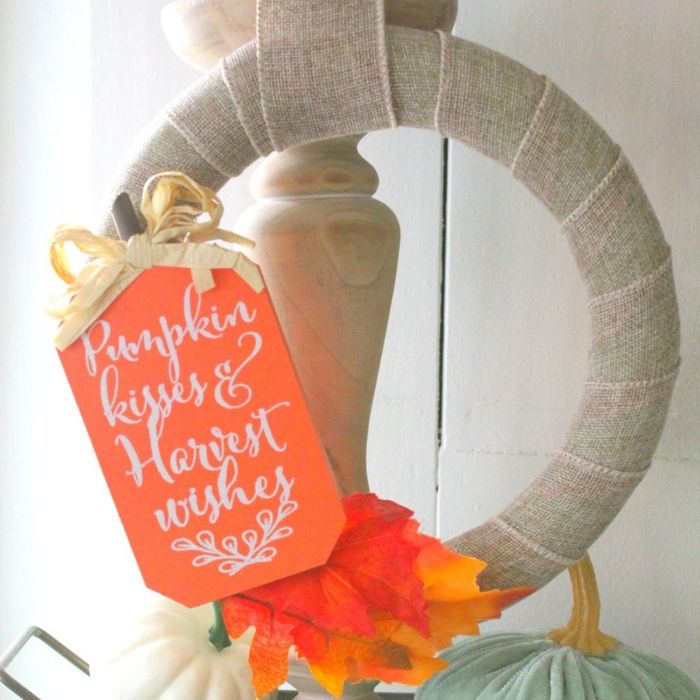 Why Put A Wreath On A Door
Wreaths back day many years ago. The Romans would hang a wreath on their door to symbolize victory after they were to win a battle. You will also know that many hang fresh wreaths with berries to symbolize the thorns worn by Christ, as he was on the cross. The berries on the wreath represent the blood Christ shed for us.
As the years have come about, you will now find people hang wreaths on the door all year round. Many changes out to go with the season, whether it be a holiday or event.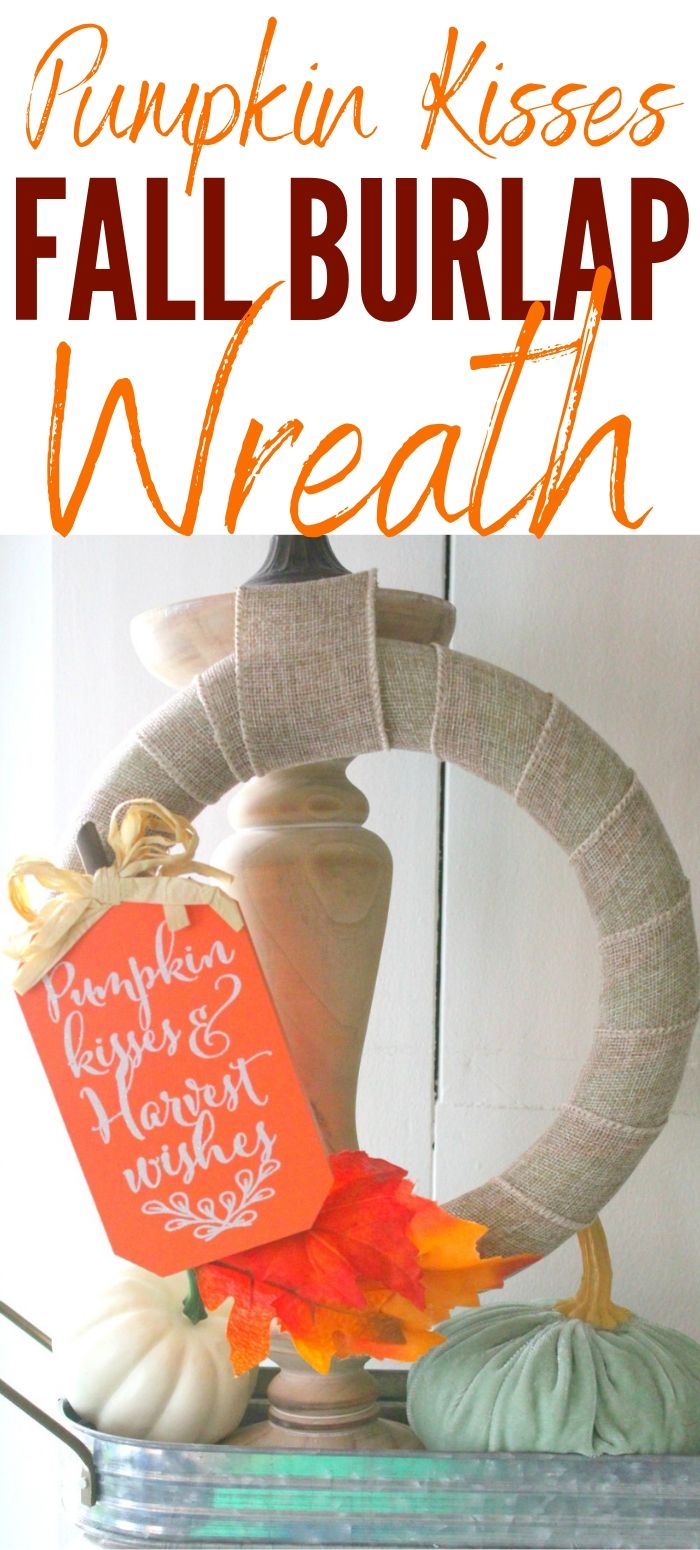 Do you like making burlap wreaths?