I am super excited to share this ultimate list of 52 Halloween decoration ideas with you! We have everything from decorating with cheap Halloween decorations all the way to Halloween party decorations. Whether you prefer cute Halloween decorations or scary Halloween decorations, I am confident you will find some items for you.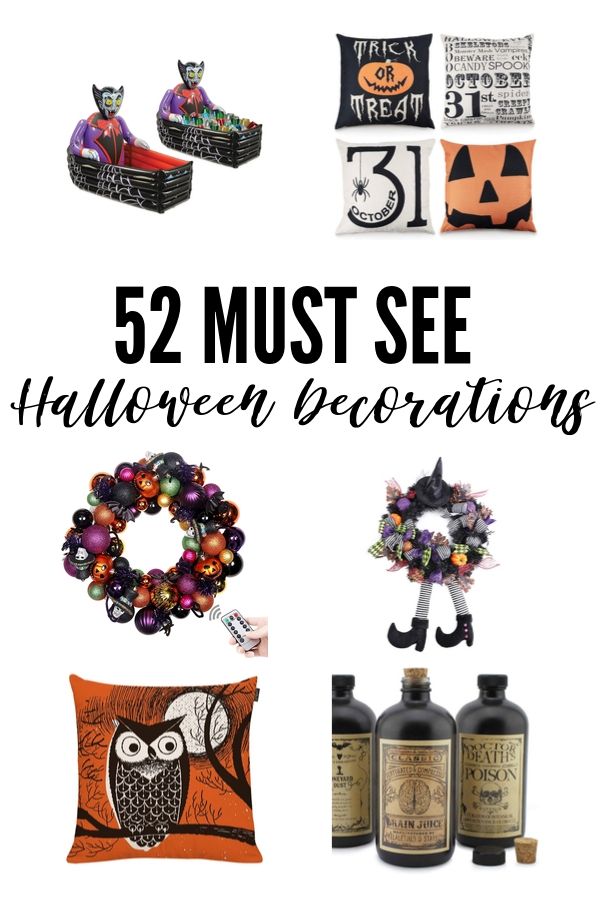 Some of the links in this post are affiliate links. This means if you click on the link and purchase the item, I will receive an affiliate commission at no extra cost to you. All opinions remain my own.
52 Halloween Decoration Ideas
Here is a list of some of our top favorite Halloween decoration ideas that will work for your home or office. They are all different and offer something unique to your decorating styles. Take a peek if you dare.


Halloween Table Runner – This table runner is so pretty! It's perfect for all your holiday decorating.
Throw Pillow Covers – Can you ever have too many throw pillow covers? You need some for every holiday.
Rustic Lantern – The elegant style of this rustic lantern is beautiful.
White Pumpkins – If you aren't a fan of orange or want more of a chic style, these are fantastic.
Assorted Pumpkin Set – You can use these for decorating your table, mantle, or shelves. Anything will work!
Buffalo Plaid Fabric Pumpkin – This is a fabric pumpkin that is ADORABLE! Goes will all sorts of decorating styles.
Tealight Candle Holders – These are perfect for your table or anywhere else you want them.
Halloween Tree – It's not too early to put up your tree when it's for Halloween!
Witch Halloween Wreath – I LOVE the look of this adorable wreath that has witch feet and a hat. So festive!
Pre-Lit Halloween Wreath – This wreath is lovely with the pre-lit lights. It even has a remote and a timer.
National Tree Halloween Wreath – I can't get enough of the black and orange together with all the glitter. So pretty and would look fabulous on your front door.
Black Feather Halloween Wreath – If you want something different from everyone else, this wreath is it! Gorgeous!
Cheap Halloween Decorations
I enjoy decorating for Halloween without spending boatloads of money. I know that some of you are probably the same way. Now, don't get me wrong, I greatly enjoy the more expensive stuff too but I can't pass up a good deal when I see one. Here are a few cheap Halloween decorations you are going to enjoy!
Orange Halloween Lights – This string of lights is an easy way to add decorations without spending a ton of money.
Set of 3 Banners – With this set, you get one of each of these banners, ghosts, spiders, and pumpkin.
Flameless Tealight Candles – These look like they actually have melted wax on them. They look awesome.
Boo Sign – This sign is cheap and looks adorable.
Glow In The Dark Ghosts – Kids and adults will love these adorable glow in the dark ghosts.
Lace Table Topper – These tablecloths are awesome! They are inexpensive and playful.
Pumpkin String Lights – I feel like you can never have too many lights when decorating for Halloween.
Bloody Footprints – If you like scary stuff, these footprints are a great deal!
Scary Halloween Decorations
Not going to lie, I am not a creepy Halloween decor person at all. However, I know that many of you LOVE the scary and creepy stuff. This is just for you! 🙂 You will almost feel like you are living in a Stephen King movie with these heart-pounding decorations. I hope you enjoy these scary Halloween recommendations.
Haunted Doll With Sound – Okay, I would legit have nightmares from this doll! If you like creepy, this is for you.
Giant Spider – I am afraid of spiders of ALL sizes, but this guy is HUGE! Frighten all of your trick-or-treaters with this giant spider.
Huge Cocoon – Nothing like showing up somewhere and seeing a giant body shaped cocoon hanging there.
Dead Body – Yeah, this dead body is sure to scare EVERYONE who comes in contact with it. Perfect for haunted houses or just decorating your own home.
Flying Ghost – This ghost is 72 inches tall! That would scare the pants off almost any of your party-goers. Yikes!
Bloody Hands Shower Curtain – If you are going to decorate, you might as well decorate the bathroom too. This will do the job.
Halloween Stickers – If you plaster these bloody handprints and footprints all over the place, it will surely give a spooky vibe.
Grim Reaper – It's a grim reaper so I think it speaks for itself, but it's pretty scary looking!
Halloween Yard Decorations
Whether you are hosting a party, haunted house, or are just having trick-or-treaters, the exterior of your home is important to decorate. It gives everything a taste of your decorating style and it can be scary, fun, or inviting! I have gathered some inspiration for outdoor Halloween decorations.
Tombstones – Well, tombstones and Halloween kind of go hand-in-hand for many people. Place these on your lawn and scare the neighbors.
Family Friendly Decorations – These cute little pumpkins, ghosts, and skeletons are amazing decorations.
Life-Sized Skeleton Stakes – Put these stakes in the ground and you will have a perfectly scary skeleton ready to frighten your friends.
Inflatable Ghost – This sweet little ghost is ready to invite the entire neighborhood over! Isn't he cute?
Scary Inflatable Ghost – This ghost will scare away anyone you don't want around. It's 12 feet tall!!
Glowing Witch Hats – These hats are fantastic and will light up the neighborhood. There are 8 modes to choose from too.
Inflatable Pumpkin – An adorable inflatable pumpkin is just what you need. The kids will love it too.
Halloween Flag – It's perfect for farmhouse style or if you just want to go with something adorable. This would be welcoming near your front porch.
Vintage Halloween Decorations
Let's go old school for a minute and take a look at some of the vintage Halloween decorations out there. I remember seeing many of these as a kid! It's really cool to reminisce about them a little bit.
Vintage Halloween Pillow Covers – Don't these pillow covers look pretty cool? They will be a conversation starter for sure.
Vintage Witch – I remember growing up and seeing a vintage witch just like this one. It's pretty fun to see as an adult too.
Halloween Cut-Outs – These cut-outs will take you back to being a kid again. They are for sure old-school decorations.
Jointed Goblins – These spooky little goblins are classic Halloween decorations! Aren't they pretty neat?
Table Linen – This stylish, but classic table linen is a beautiful vintage look that you are going to love!
Burlap Runner – Decorate your table with this vintage table runner with haunted houses on it. It looks fantastic.
Owl Pillow Cover – I seriously can't get enough of this adorable owl. It's a classic style that is truly ageless.
Black Bottles – These bottles have a terrific vintage label and look awesome. Decorate your mantle or dining room table with them.
Halloween Party Decorations & Supplies
The best part to me is actually throwing a Halloween party! I LOVE Halloween party supplies because they are so much fun. Take a look at these Halloween party ideas.
Cute Halloween Dinnerware – These set is so adorable and is perfect for a kids party at school or when you want something cute.
Orange And Black Party Supplies – Geared towards adults or kids, these party supplies are ideal for all groups! They are charming and playful.
Blood Bags – If you use these blood bags, I promise all your guests are going to go wild for them! They even give you a funnel to prevent spills when filling.
Jello Shot Syringe – You can't have a Halloween party without some jello shots! This is a unique way to make them.
Pin The Eyeball On The Zombie – The kids and drunk people will get a huge kick out of this game!
Inflatable Vampire & Coffin Cooler – Forget putting drinks on the counter, use this vampire cooler instead. Everyone will love it.
Skeleton Trophies – Having a costume contest? These trophies are going to be a blast to hand out!
Inflatable Ring Toss Game – This game is amusing for kids and adults. It is a great ice breaker too.
Take a look at some of our other crafts, recipes and more.
What is your favorite Halloween decorating style?