Calling all Harry Potter fans! Learn how to make this affordable and simple Deathly Hollows Harry Potter Wreath! I have seem similar wreaths selling for a lot of money. And while they may be worth it, learn how to make your own DIY Harry Potter wreath for a fraction of the price.
This Harry Potter Deathly Hollows wreath was so simple. I got all my items at the local Dollar tree, so it is a budget-friendly Dollar Tree craft!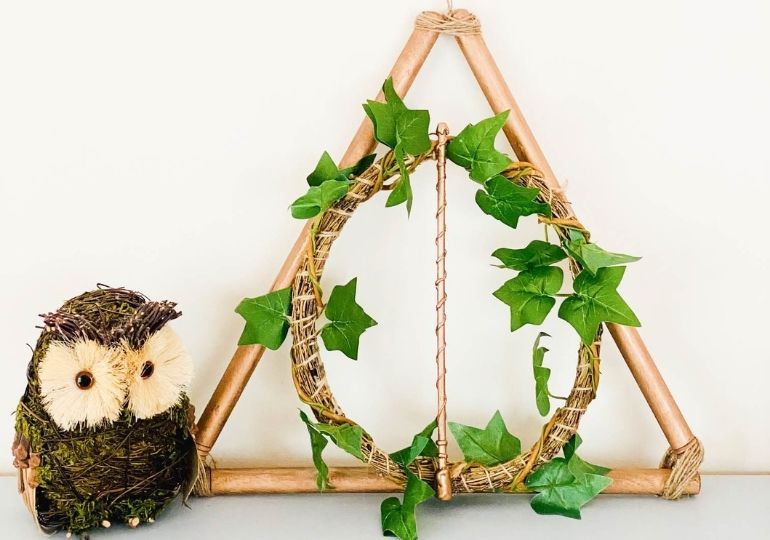 Learn how to make this Dollar Tree Harry Potter craft and decorate your front door or showcase it on the wall hanging in a room in your home. Or gift it to a loved one who is a fan of Harry Potter.
More DIY Ideas – Galaxy Jars, or mini succulents.
Ways to Change Up This Harry Potter Wreath
Harry Potter House Colors – Consider adding on some string or flowers that match your favorite house colors! Or you can glue on little trinkets of your favorite house.
Character – If you have a favorite character, I like Hermine, I would find my favorite quote. Use a Cricut and print out the quote, and attach to some wood and then hot glue on for a fun unique twist.
Harry Potter Items – You might find pins or even small plushes that you can glue or attach to the wreath to give it more depth and texture. This Deathly hallows wreath has so many ideas.
What Do I Need For This Wreath
3 Toilet Plungers
12 Inch Dowel
Hot Glue Gun and Glue
Scissors
All of these items I found at our Dollar tree, if you don't you can head to other Dollar Stores, Walmart, etc. Or shop online at Amazon or other ship-to-home stores.
How to Make
Full directions are in the printable How-To card below. This is a quick overview of the craft.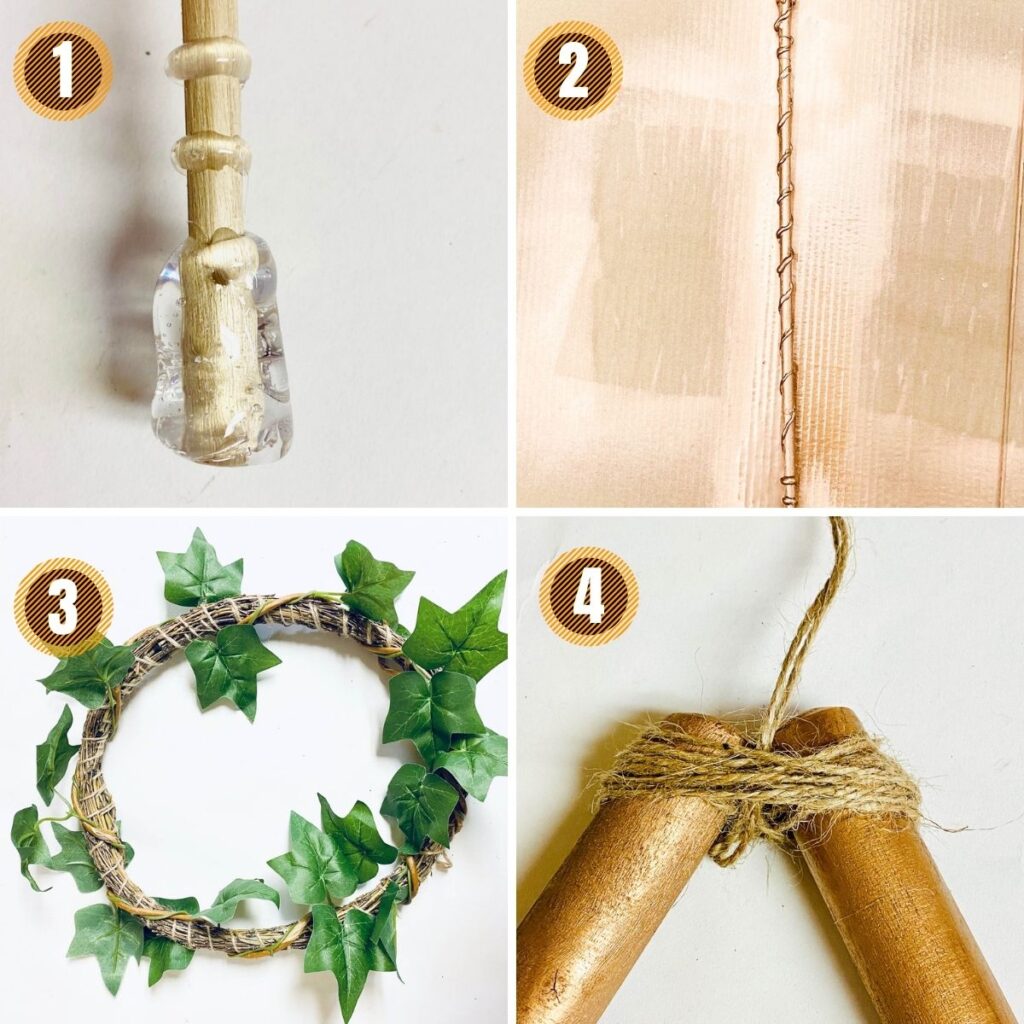 Step 1: Start by adding hot glue to the dowels, make sure to glue all around the wooden dowels. This is going to add a nice tip to a wand. Then swirl the glue all the way down, giving it a twirled look.
Step 2: Remove the rubber part to the plungers, they will twist right off. Then spray the dowels and the plungers gold.
Step 3: While it is drying wrap your ivy garland around the bamboo wreath. Then hot glue the ends of the plungers together to make a triangle shape.
Step 4: Next take the jute twine and wrap it around the ends of the plungers a few times. This is going to add hold but also give the wreath a fun look. Then hot glue the bamboo wreath, to the center of the wooden triangle. Use hot glue where the wreath touches the triangle.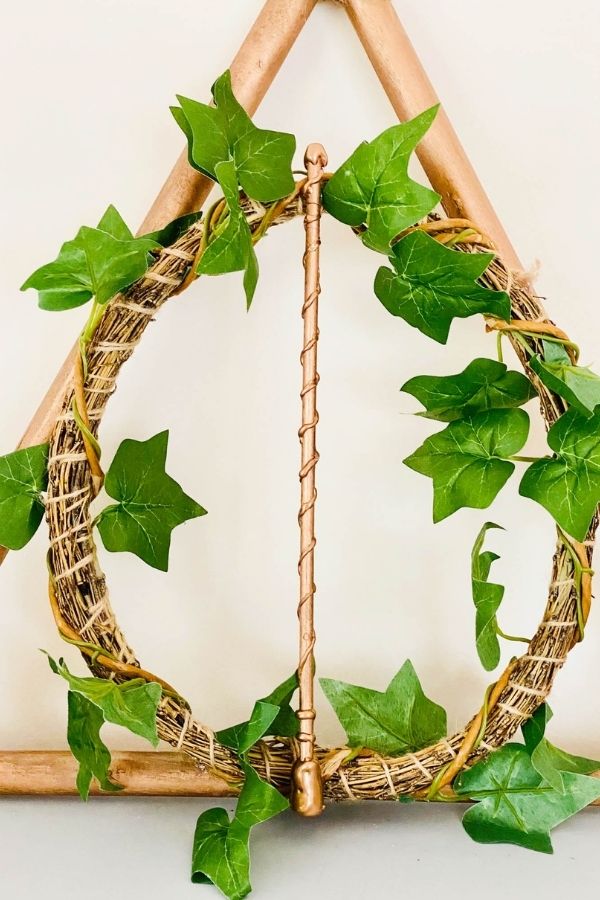 Step 6: Glue the wand wooden dowel down the center of the wreath.
Simple Swaps
Here are a few more ways to swap out the look of this Deathly Hollows craft! This DIY wreath has so many possibilities.
Use Birch Twigs to make the triangle if you don't want to use the wooden plungers.
Do a different hot glue design on the rod to make it look like a different type of rod.
Change up the color of paint you use to fit whatever look you are going for. (silver and green, blue and bronze, yellow and black, etc.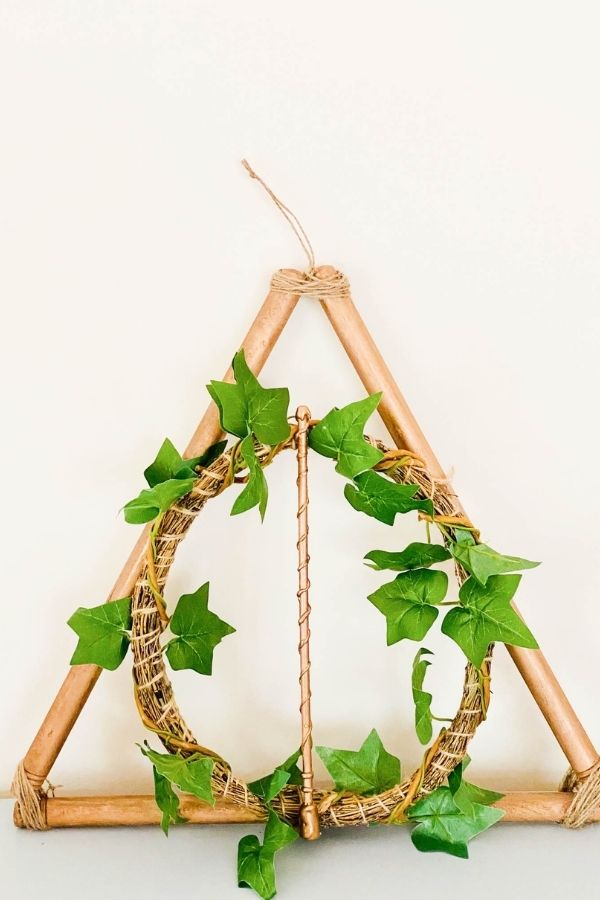 Frequently Asked Questions
What do the 4 houses of Hogwarts represent?
There are four classical elements that are what the houses stand for. Here is how they are listed: Fire (Gryffindor), Earth (Hufflepuff), Air (Ravenclaw), and Water (Slytherin).
Why is Slytherin green?
Slytherin is green due to the jealousy of Harry Potter and the Dark Magic aspect of this series. The green and silver are the stand out colors in this house.
What house is Hagrid in?
Hagrid was in the house of Gryffindor. As he is noble, brave, and such a stand out character it is easy to say he would hands down be in the Gryffindor is what many followers of the books say.
I hope you enjoy this JK Rowlings inspired DIY Dollar Tree craft. Let me know below if you want to see more DIY Harry Potter craft ideas!
More Harry Potter Ideas
Connect with me on Facebook for more DIY Crafts, Home Decor, and more. As well as Pinterest!
Yield: 1 Wreath
Harry Potter Wreath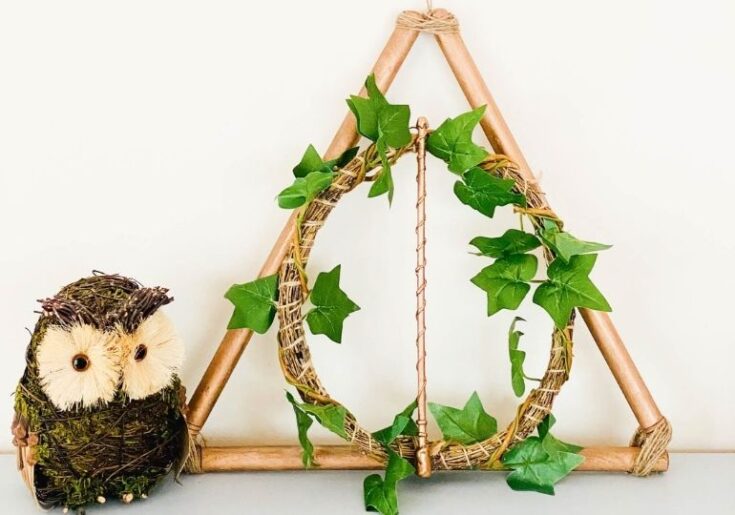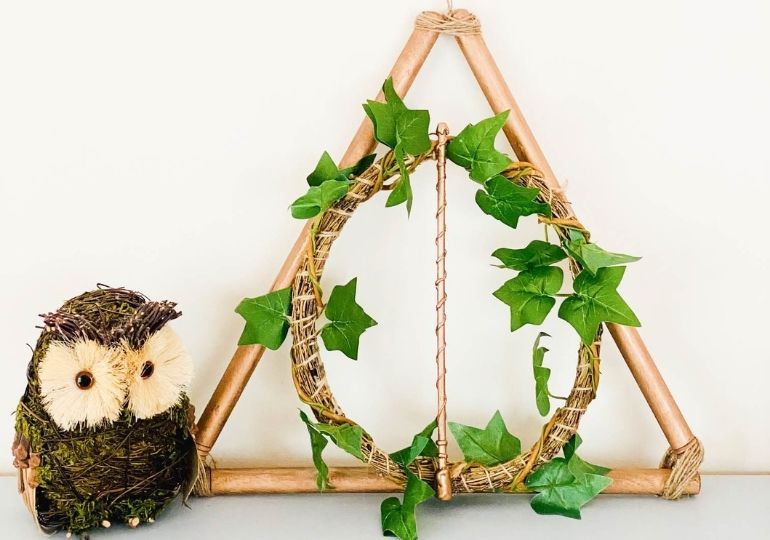 Learn how to make this Harry Potter Wreath. A Deathly Hollow Wreath that is from the JK Rowlings Book series. A fun Dollar Tree Harry Potter Wreath that takes no time to make.
Total Time
1 hour
40 minutes
Materials
3 Dollar Tree Plungers
Dollar Tree Bamboo Wreath
Dollar Tree 12 inch dowel (these come with a bunch in the pack and are found in the crafters corner)
Copper Spray Paint
Dollar Tree Jute Twine
Dollar Tree Garland
Tools
Scissors
Hot Glue Gun and Glue
Instructions
The first step is to hot glue the wooden dowel. Add a round area on the ends, and then do a twirl effect all the way around the dowel to seem like a swirled wand. Set it to dry.
While the glue is drying, remove rubbers from the plungers, they twist right off.
Place the glued dowel and the plunger handles out and spray paint gold on all sides.
While the paint is drying take your ivy and wrap it around the wreath. If you need secure with some hot glue.
Then you will take jute twine and wrap it around the ends of both plungers, and then hot glue to seal. You want the plungers to be in a triangle shape. And each area where the two plungers meet, wrap in twine.
Now you are going to hot glue the wreath in the center of the triangle. Just wherever the wreath touches the triangle glue it on.
Then glue the wand you painted in the center of the round wreath.
Cut some jute and make a hoop that you will glue at the top to act as a hook to hang your wreath.
Once done hang up and display your Harry Potter wreath!
Notes
Supplies - I got all the supplies at the Dollar Tree. You might look and see if you can find at other stores if you don't find all the items.
Change up The Look - Feel free to add different colors, Harry Potter house colors, or glue on items from the Harry Potter theme. You can find tons of ways to personalize the Deathly Hollow wreath to look different.
Wand - Try different designs on the dowel to make a different look to the wand.