Learn how to make this easy Crayon Wreath! It takes a few supplies to make, and is a great Back to School Wreath to give to your child's teacher. A fun and easy teacher wreath idea for you to make in an afternoon.
This DIY teacher gift is budget friendly. I was able to get all of our items for this school themed wreath at my Dollar Store. A simple Dollar Store wreath! Grab the printable crayon wreath tutorial at the bottom of the post.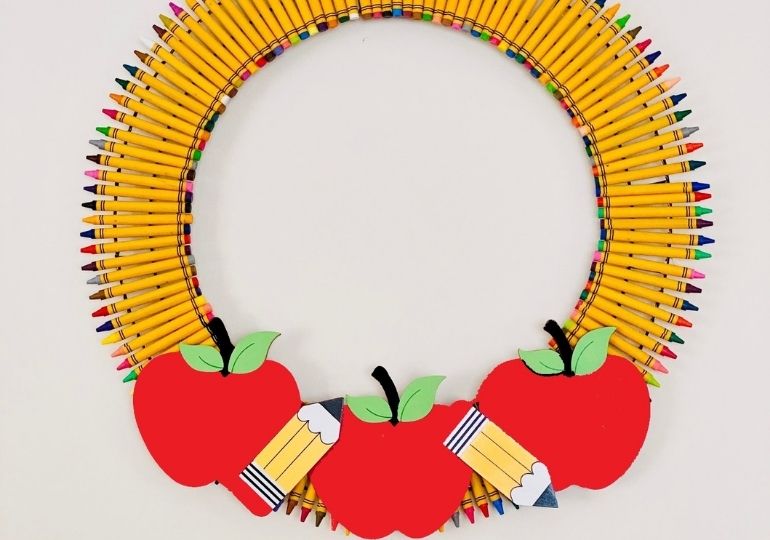 This is a fun and creative home sweet classroom wreath you can use as a teacher gift idea for any time of the year. Whether it is for a fresh school year, Christmas gift for a classroom decor gift, teacher's birthday gift, or end of year gift.
No matter when you gift this wreath, it is so fun, and always loved by the teacher.
Why Make This Crayon Wreath DIY Project
Affordable
Fun
Great gift Idea
Attach school supplies instead of crayons or in addition to
Great teachers gift
Fun classroom door piece if you are a teacher and want to dress up your room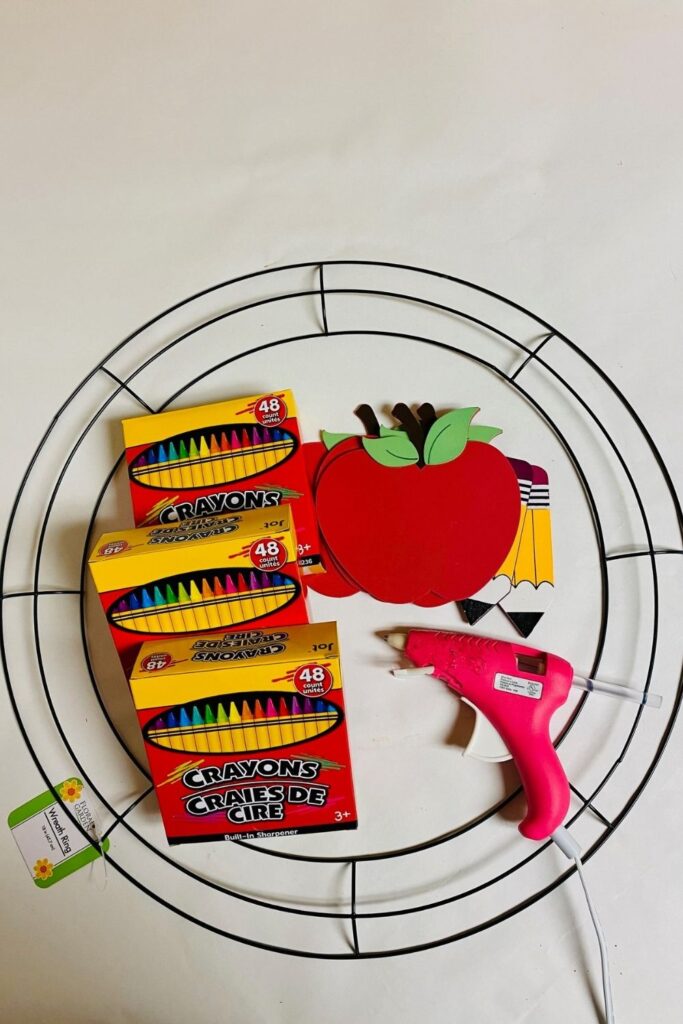 Supplies You Need
How to Make
Full directions for the craft are in the printable card below. This is a quick overview on how to make the DIY craft.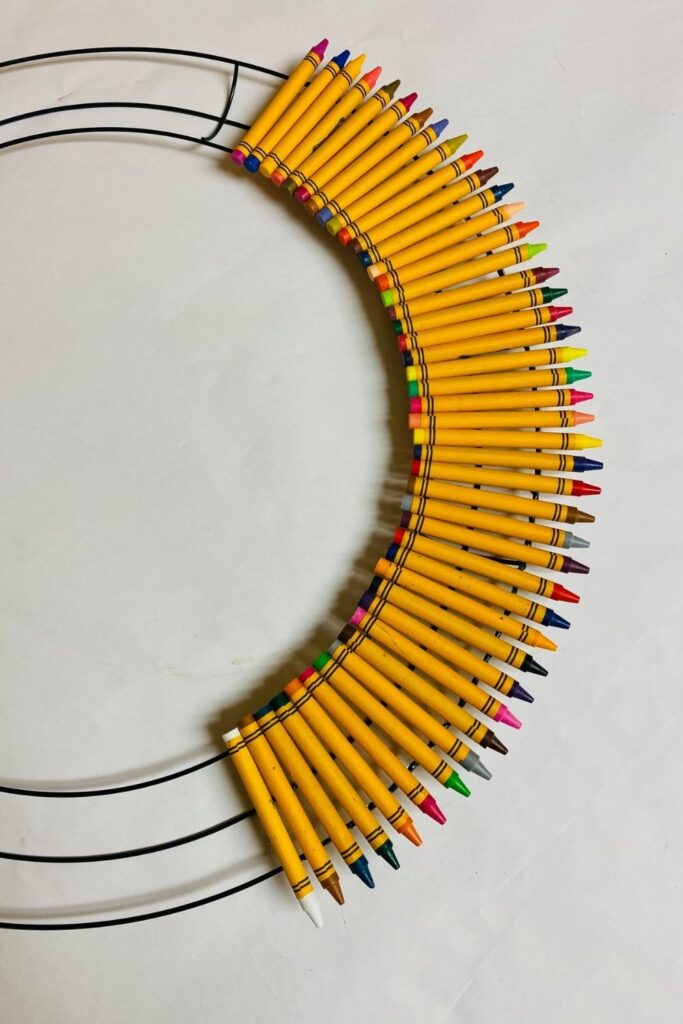 Step 1: Start by flipping over the wreath, and use the back side of the wreath, to glue the crayons. They stick better.
Step 2: Next, place some hot glue on the wire wreath frame, and then one by one glue your crayons. I did random colors through the wreath.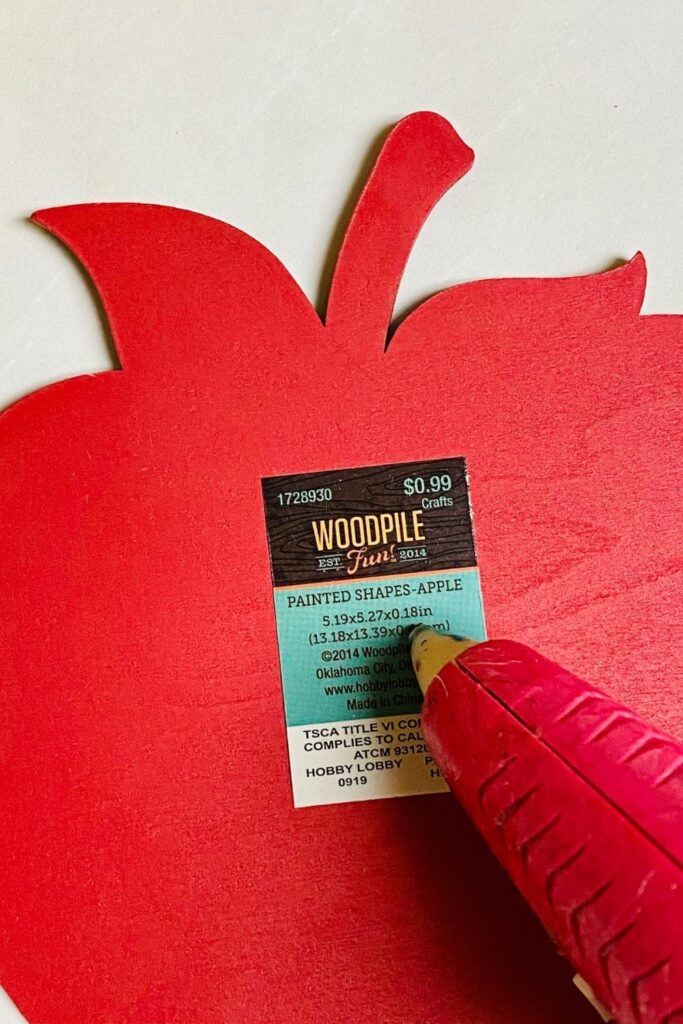 Step 3: Once wreath is covered in crayons, glue your 3 apples in the center bottom of the wreath, with the wooden pencils on there as well.
Allow to dry, and then gift!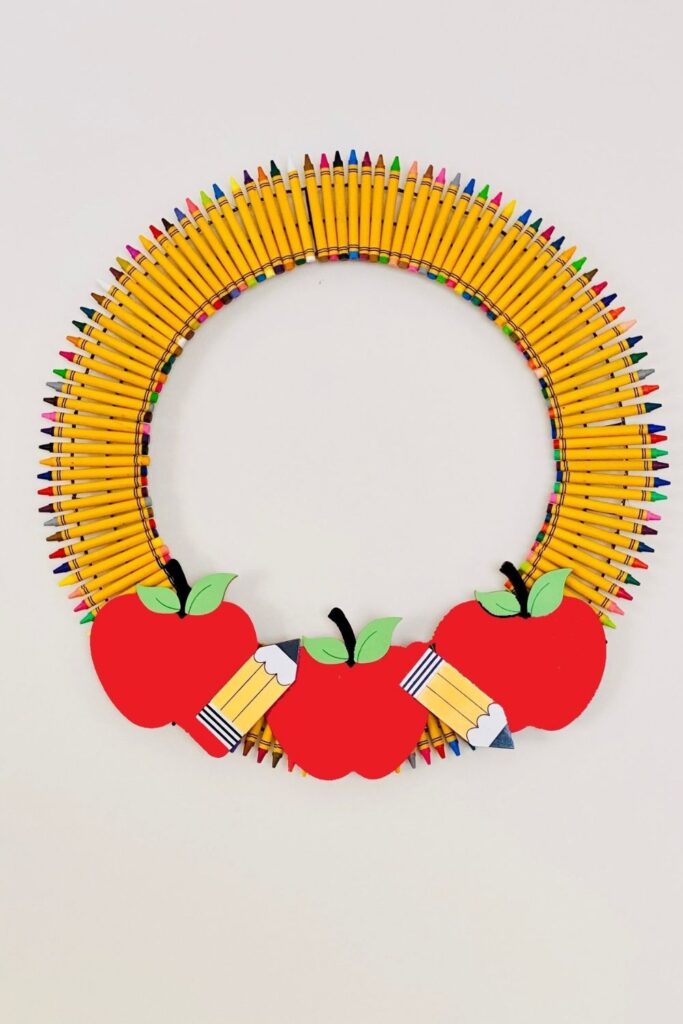 Variations And Tips
Consider making a school supply wreath with glue sticks, pencils, and other items.
Write on the teacher's name for a homemade teacher gift – I would write on the apples.
Use something else besides crayons – colored pencils, classic pencils, etc.
I did just random colors, you could do it any way you want. Ombre would be fun as well.
Add on a gift card to give to the teacher.
There are so many ways to change up this DIY gift idea. Have fun, and just enjoy your crafting!
Want More Teacher And Back To School Ideas
Yield: 1 wreath
How to Make A Crayon Wreath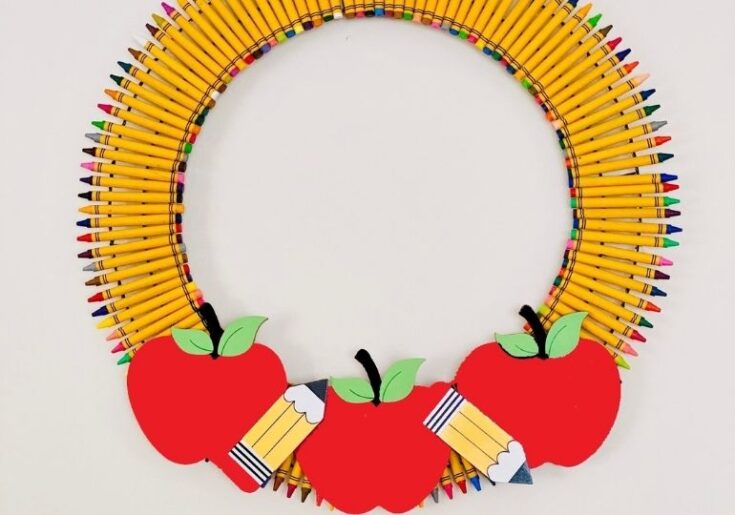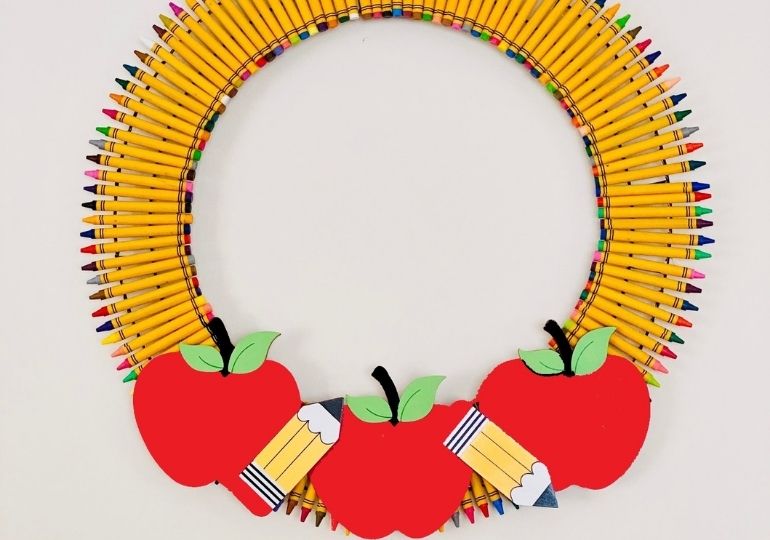 Learn How to Make A Crayon Wreath! This is a great teacher gift idea, classroom decor piece and more. A fun and simple school wreath that can be made in no time.
Materials
3 Wooden Apple Shapes
2 Wooden Pencil Shapes
Instructions
Flip over the wire wreath, and use the backside of wreath. The crayons will stick better to the flatter side.
Begin adding small strips of glue to wreath and attaching one crayon at a time.
Repeat until all the crayons are glued around the entire wreath. This will take a bit of time. Work in small areas, as the hot glue sets up fast.
Then you will place the 3 apples in the center of the bottom part of the wreath. Use hot glue to attach to the crayons.
Then you will glue the two pencils on center of apples.
Let the crayon wreath dry and then your done!
Notes
Crayons - The crayons I got were at the Dollar Tree. You can use any brand of crayons for this wreath.
Write the teachers name on the apple, for a fun custom gift.
Swap crayons with colored pencils or even classic pencils
Attach school supplies for a fun twist to the wreath