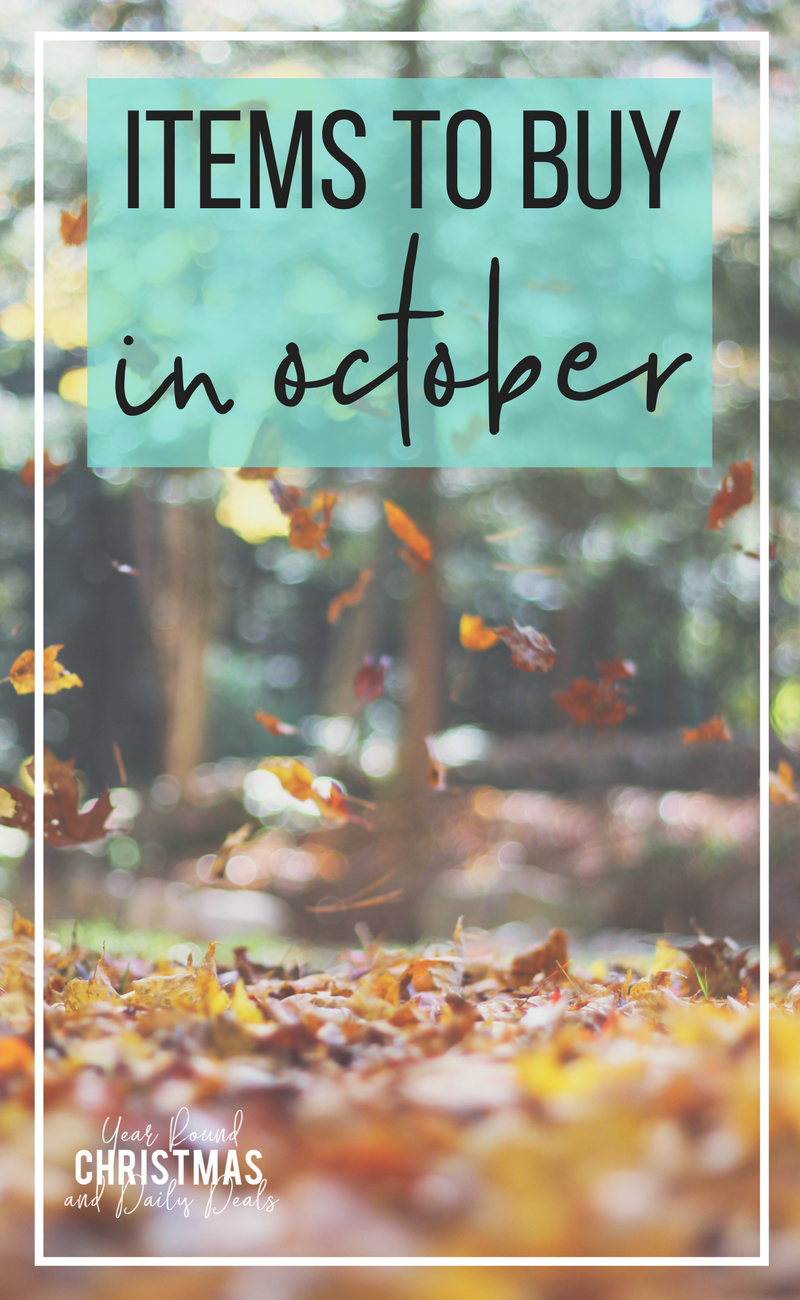 It is so hard to know if you are getting the best deal on an item, or if next week or month the price will be even lower. October is almost here, and with that begins the holiday shopping season. I have compiled a list of some items to buy in October, that is at the best price points. To save even more money this Fall shop these discounted sales items to score the best prices on them.
I hope this list below can help give you an idea of what are good buys, big-ticket items, and smaller items. I love finding the best deals, and I know this guide helps me to save the most on items!
Here Are More Fall Finds
10 Products You Should Shop For In October
Swimwear
With the season of swimming coming to a close in most states, comes discounted swimwear and accessories. Shop for your next season and stock up on new swimsuits, floaties
, beach towels and more.
Jeans
With school shopping coming to a close, comes discounted denim. You can find items discounted really well and even some brands might offer a buy one get one free sale around this time. So keep your eyes open and check emails from your favorite retailers to see any specials going on.
Cars
Most car manufacturers release new car models in September, you will see dealerships slice the prices on older models in October. They are trying to clear out their remaining inventory.
Halloween Costumes
This is something to plan ahead on, but the best day to buy Halloween costumes
is the day after Halloween. You can shop online or in-stores for deals up to 75% off costumes. Now I recommend ordering for the next year ahead, so if you didn't do this last year, you might order for this coming year.
Camping Gear
The camping season is coming to a close, and with that, you will see sales in October. Get deals on all the camping gear
, hiking boots, apparel and more.
Patio Furniture
You can find retailers selling patio furniture up to 75% off. Stack with coupons if any are available for the store you are shopping at. Look at eBay, Sears, Target, Walmart and more for great prices.
Air Filters
This is the month a lot of retailers offer deals on air filters for the season. You can buy enough to stock up for the winter, at a nice low-cost price. Some even offer a buy one get one, half-off sale.
Cruises
October is the month that consistently offers lower-priced cruise deals each year. You can find really low-cost cruises that you might save a few hundred on in the month of October compared to other months. If you are wanting to get away, make sure to check out the deals.
Summer Equipment
Lawnmowers, gardening supplies
, plants and more will all go on discount. You can find some great deals on lawn care items that you can store for next season.
Toys
Big stores like Walmart, Toys R Us, Target, and Kmart will work on clearing their shelves for holiday toys. So older toys will get reduced in price and make for great bargain buys.
What do you buy in October?