Mickey Mouse Wreath is a fun way to decorate your front door in a Disney inspired way. This is a great Mickey Mouse Christmas Wreath or a wreath for a birthday party, or everyday style wreath for all those Disney lovers.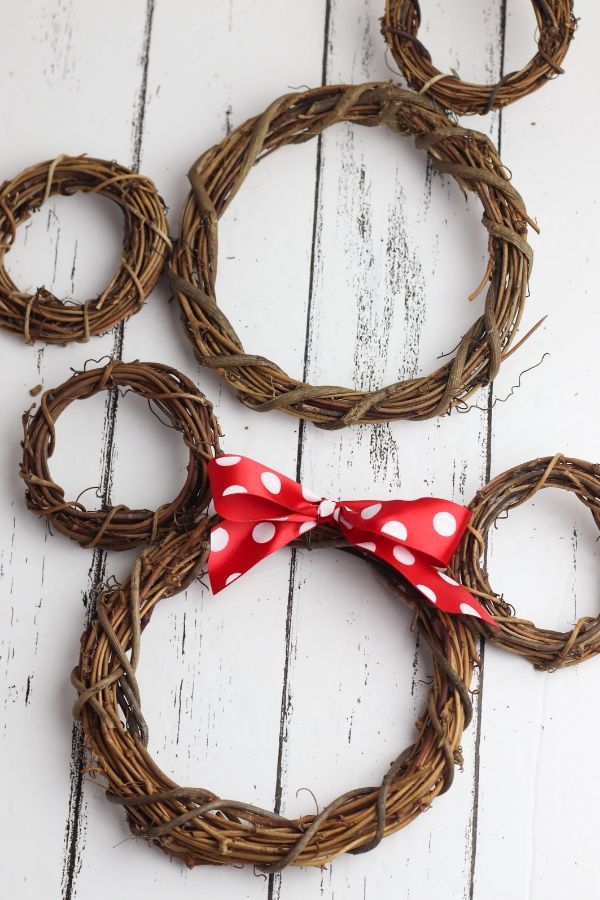 Or you can call this a Minnie Mouse Wreath if you will! Either way, this wreath is fun and super easy to make. Just a few supplies and 10 minutes is all this wreath takes.
Looking for more Wreath Crafts
Mickey Mouse Wreath
If you are looking for a beginners wreath craft, this Mickey Mouse grapevine wreath is perfect. It literally is minimal steps before you have a finished project. Then hang on your front door or even a wall in your home for a simple and fun pop of texture and color.


Can I Use A Different Color Ribbon On My Mickey Wreath
Absolutely! Use whatever type of ribbon you want. I love polka dot ribbon, but feel free to reach for whatever you want. Either way, you will get that Disney Magic look from the classic Mickey Mouse Silhouette.
How Do You Connect The Grapevine Wreaths Together
I reached for a floral wire
. It is rather easy to work with and will help you shape and attach the wreaths together without much effort on your end. You are welcome to find another way. I just found the floral wire was almost hidden from the color of the grapevine, so it worked out great.
How Many Grapevine Wreaths Do You Need For A Minnie MouseWreath
You need one large wreath and two smaller ones. The large will be the face and the two small will mimic ears. You can make as many wreaths as you would like.
What Size Of Grapevine Wreaths Do I Buy for A Mickey Wreath
This all depends on the size of the wreath you want to make. If you want it larger in size, buy a larger main wreath, or smaller go for a smaller size. I did a 6-inch grapevine wreath
for my main, and two 3 inch wreaths
for the ears. I wanted mine to be smaller in size, to hang on the wall in a bedroom.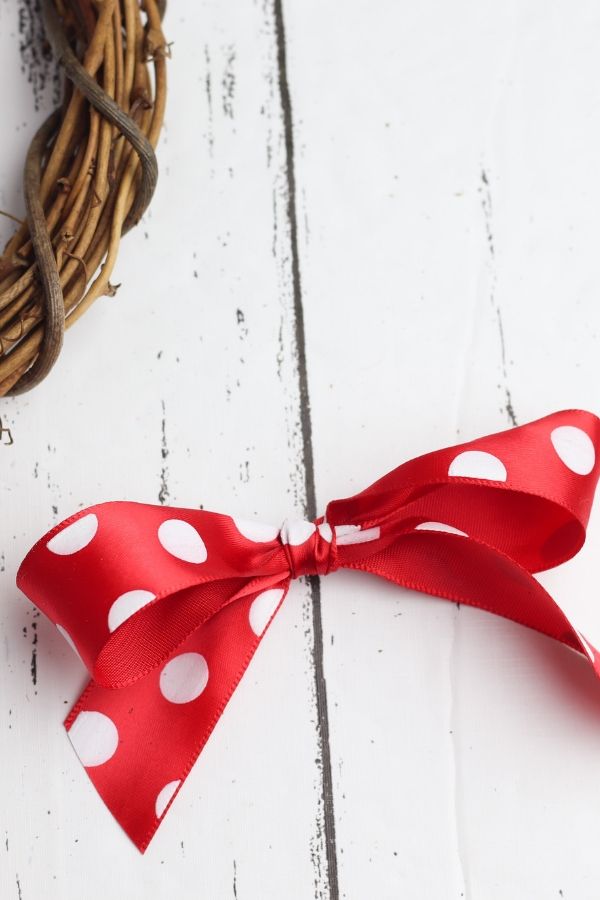 How Do You Tie A Bow
This YouTube video shows you how to easily tie a bow in seconds. Also, make sure to check out her channel for even more unique and creative things you can do just like this.
Yield: 1 wreath
Mickey Mouse Wreath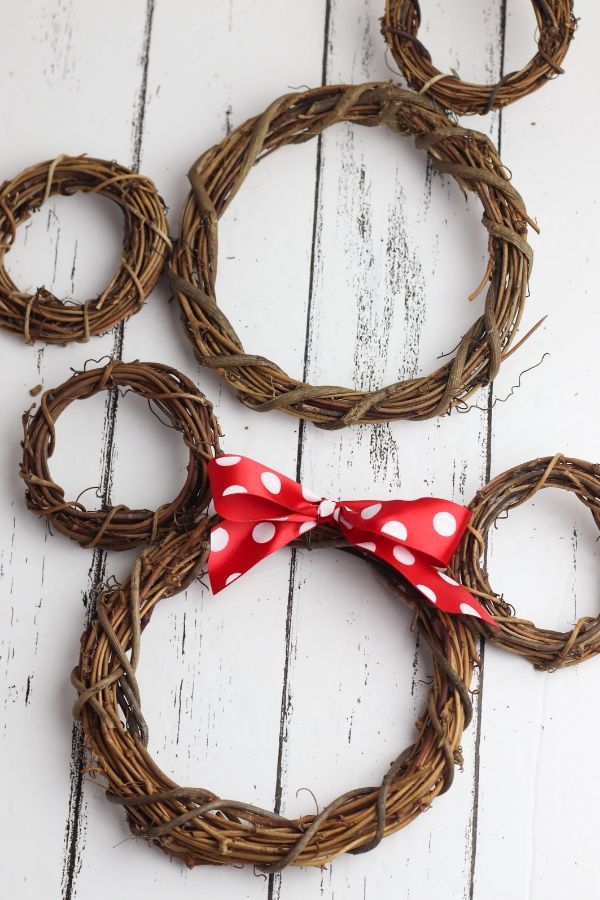 Mickey Mouse Wreath that is great to hang on your front door or on a wall in your home. Or call this a Minnie Mouse Wreath!
Materials
6 inch Grapevine Wreath (Or any size you want)
2- 3 inch Grapevine Wreaths (or any size you want)
Floral Wire
Polka Dot Ribbon
Instructions
Start by threading your floral wire through the side of your 6 inch wreath. Then attach one of the 3 inch wreaths, to mimic an ear. Twist on the Wire to ensure it is nice and tight.
Repeat the process on the other side of wreath to make another ear.
Now make a bow, and tie it so it stays secure.

With your glue gun add a dab of glue in the center of the backside of your bow, and attach it to the center of your wreath.
Mouse Ears Solid Black & Red
First Birthday Party Supplies
Mickey Mouse Party Supplies Kits
Mickey Mouse Themed Felt Garland
Birthday Party Supplies
Cupcake Toppers
1st Birthday Boy Decorations
Mickey Paper Honeycomb Balls, Red Yellow and Black Tassel Garland Tissue Felt Banner Kids Birthday Themed Party Ideas Classroom Decoration
MICKEY MOUSE CLUBHOUSE
Mickey Mouse Party Supplies
Wilton Mickey and The Roadster Racers Birthday Candle, Great for Birthday Cakes, Cupcakes
Happy 4th Birthday Cake Topper
Mickey Mouse Birthday Decor
This wreath would be great for a birthday party! Here are some more Mickey Mouse birthday decor items listed below to consider adding to your party theme.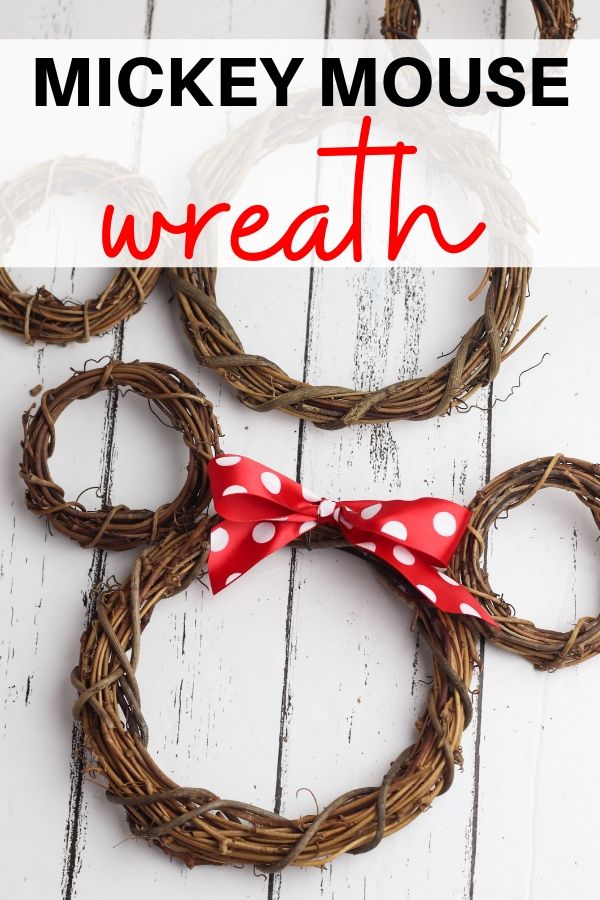 How would you decorate with this Mickey Mouse Wreath?