Looking for a gift for a baby? Check out these Montessori Baby Toys that you can buy directly on Amazon and have them shipped to your home.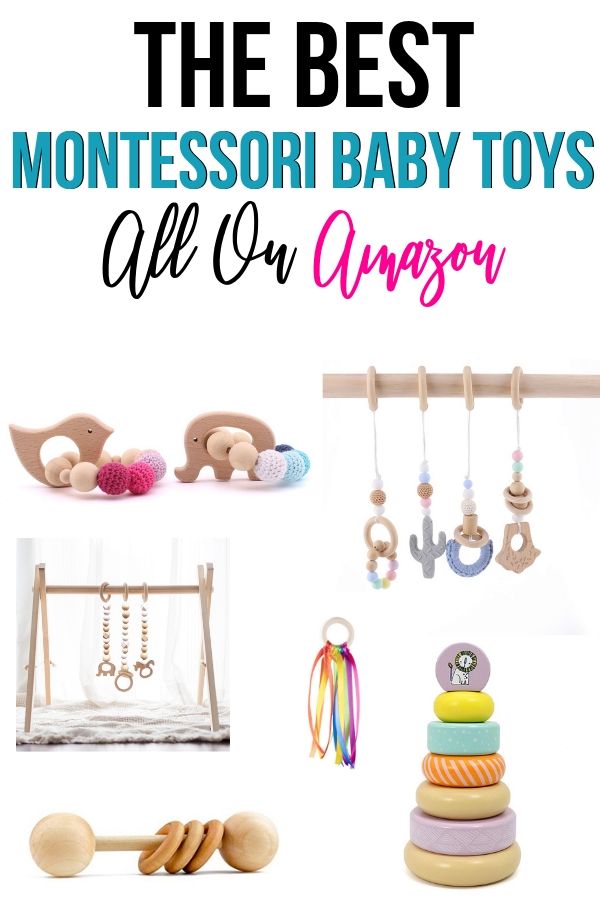 Personally, I love buying toys that help a child grow and learn. Montessori baby toys are a great gift that will last for years. You find quality in these toys, that are safe, and a way for the baby to learn and develop their minds.
Montessori Baby Toys
So if you are looking for a gift for a baby shower, Christmas, or to stock up on for your own baby, check out my list below!
What is a Montessori Toy
A Montessori toy is a toy that will help to stimulate the child and encourage them to learn in a new way. They can hold the toy, feel the texture, and more. Montessori toys are great for helping little ones develop fine motor skills.
Best Montessori Baby Toys To Buy
Montessori Baby Toys to consider buying as a gift or a toy for your child to learn and grow with.

Photo Credit: www.amazon.com

A natural wood rattle that your child can teeth on in a safe way. Plus they can feel the rings and more. A super nice quality rattle.

Photo Credit: www.amazon.com

Here you can get a teether for your little one as well. This adds a pop of color to entice and lure your little one in to wanting to munch on it.

Photo Credit: www.amazon.com

I love the simplicity of this baby gym. It folds up so great for taking with you on trips while you travel. Or tuck away when you are not using it.

Photo Credit: www.amazon.com

For six months and older, this music playing penguin will wobble back and forth enticing your little one to work on reaching for it, crawling, and more.

Photo Credit: www.amazon.com

Stack and play is what you will get with this stackable toy. This toy can grow with your child because at first they might just play with a circle or two, then they will learn to build the tower.

Photo Credit: www.amazon.com

Here is another teether set, that is two pieces. Fun, and the pop of color will really help get your baby interested in the fun shaped wooden Montessori teethers.

Photo Credit: www.amazon.com

Bright colors, and lots of time looking and feeling the textures of this sensory ring. The one thing I will note is watch your baby as it plays with this, since the ribbon is kind of long.

Photo Credit: www.amazon.com

Touch, feel, and learn is what you get with this set here. Lots of great ways for your child to use their senses, and mind as they play with these items.

Photo Credit: www.amazon.com

Hang on a mobile, attach to car seat handle, or anywhere else. Let your child reach and play as you travel or find ways to entertain them when they are awake before it is time for another nap.

Photo Credit: www.amazon.com

This is a full wooden baby activity gym set. Would be a great piece to gift for a baby shower gift, or to buy or add to your own registry.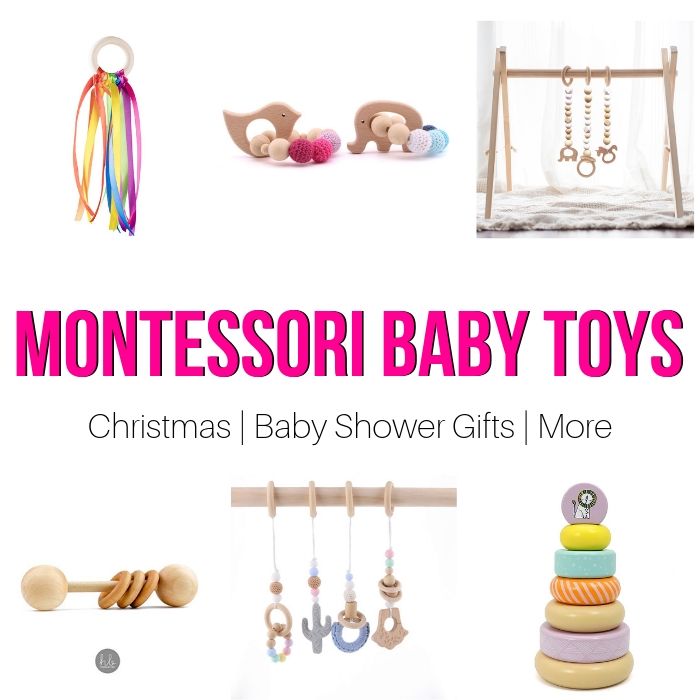 Do you buy Montessori baby toys?