Pokemon Go Christmas Ornaments are a top homemade Christmas ornament to make for kids this year. Sit down and have a craft day, and create Pokemon Christmas Ornaments that will be fun to hang on your Christmas Tree.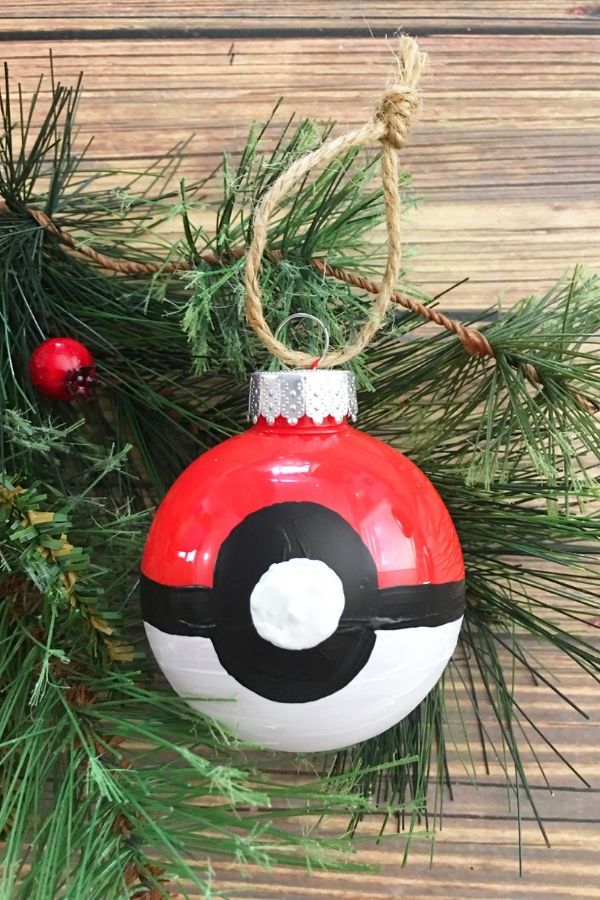 Whether you have a Christmas tree
in your kid's room you decorate with all the fun kid-themed ornaments, or you like a hodgepodge of ornaments on your family tree.
Pokeball Pokemon Christmas Ornaments
A clear ornament and some paint and a few other supplies are all you need for this Pokemon ornament. Pokeballs are the perfect easy ornament you can make at home, with your kids for a fun themed tree.
Round Clear Plastic Ball Ornaments
Black Paint
Red Paint
White Paint
Hemp Twine
Flat Tipped Brushes
Scissors
Items Needed For Pokeball Christmas Ornaments
How To Make Pokeball Pokemon Ornament

Start by filling your ornament with some red paint. I then rolled it around getting the paint to cover all areas of the ornament. Make sure to have something to catch the drips underneath.

Then I placed the ball in a cup and let it dry overnight.

Next I tipped on the side, and then painted half the ornament white. You could tape it off for a clean line, but I just eye balled it. Either method will work.

Next you Add in the black paint. I did a black line of paint around the ball. Then made a circle in the center of the ball, followed by a white circle once the black was dry.

Add on the top and you have a Pokeball Christmas ornament! Kids will love painting these up if they have a love for Pokemon Go!
Yield: Pokemon Ornament
DIY Pokemon Christmas Ornament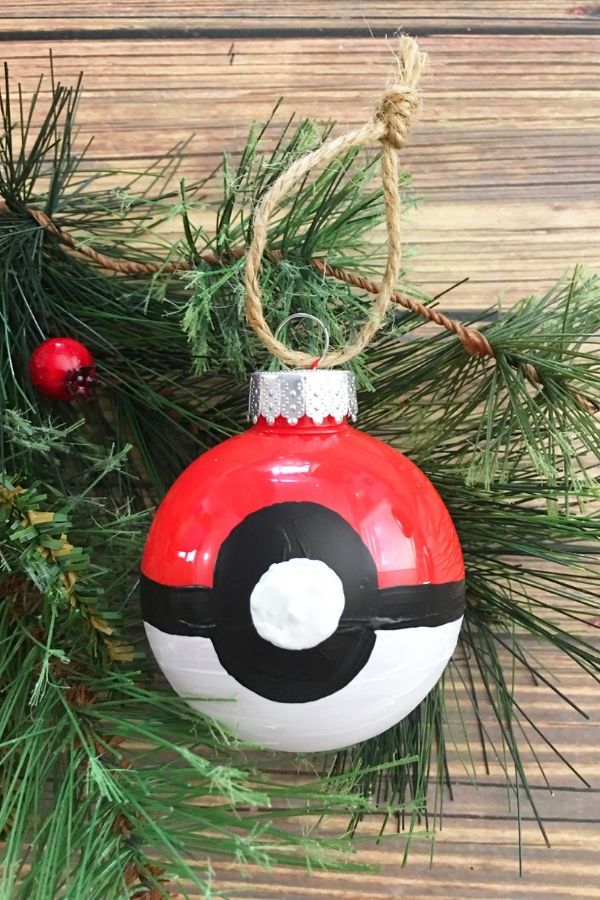 Check out this easy Pokemon Christmas Ornament Craft. A fun way to show your love for Pokemon.
Materials
Clear ball craft ornament
Black, red, and white multi surface craft paint
Tools
Flat tipped paint brush
Scissors
Instructions
Squeeze a tablespoon-sized amount of red paint into the top of your ornament and let dry without the lid on

Paint the bottom half of your ornament white, let dry, and paint with a second coat of white paint

Once your ornament is dry, paint a skinny black line around the center of your ornament with your flat-tipped paintbrush

Now paint a black circle in the center of the black line like pictured and let dry

Then paint a white circle in the center of the black circle and let dry

Cut a 6" piece of hemp twine, loop through the top ring, and tie the ends into a knot
Looking For Some Pokemon Go Stocking Stuffers or Gifts
Poke Ball
This little Poke Ball will provide hours of fun for your kiddos. Poké Ball Plus lights up, vibrates, and plays sounds based on what you do in Pokémon.
2. Pokemon Go Gotcha Wrist Band for Iphone/Android
Great for iPhone users or Android. You can get the automatic Pokemon and items without looking at the screen in a smartphone!