Here are some wonderful and show stopping spring flower arrangements to consider showcasing in your home this spring. Brightly colored flowers, that will freshen up a room and add a nice fragrance.
Learning how to make your own flower arrangements is easy. Even the ones that look complicated, when the steps are broken down you will feel like a pro in no time. Check out these flower arrangements for spring or summer.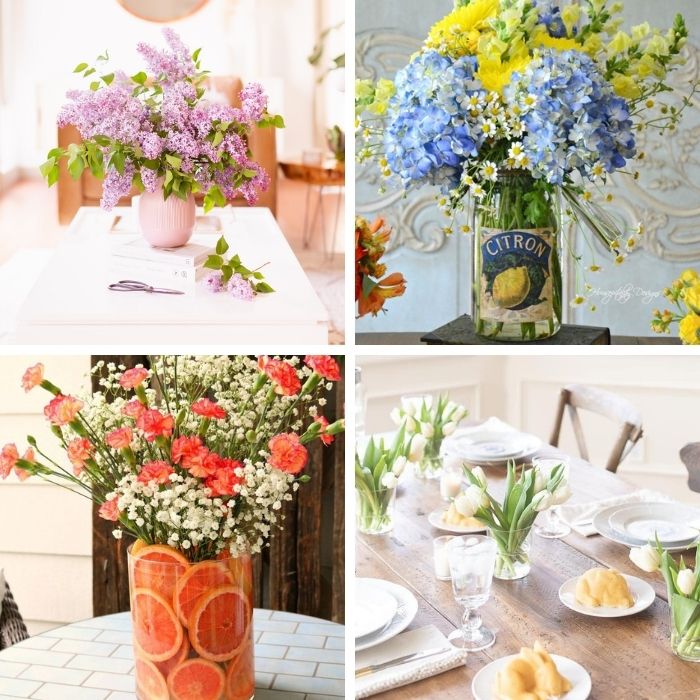 So don't wait, grab your flowers, a vase, and other supplies and create a masterpiece!
Why Make Your Own Spring Flower Arrangements
Lower Cost Than Buying Arrangements Pre-Made
Great Way To Decorate Your Home
Create Custom Designs For Home
Elevates A Room Instantly
How to Keep Flowers Fresh Longer
Here are a few tips to keep your flowers fresh longer. Buying flowers can add up, even if you head to your local Trader Joes, Walmart, etc. Here are simple tips to help those delicate flowers lasting longer.
Make sure your vase is squeaky clean! This will help ensure a great base for your bouquet, if it is dirty it can cause the flowers to wilt faster.
Cut the tips of the flowers before you place them in the vase. A clean cut is key, you can use sharp scissors or a knife. Just cut the flowers under running water.
Keep your flowers in a cool place or they will wilt faster. You will find if the flowers get too warm it will truly affect how long they last.
Flower Arrangements for Spring
Here are some must make Flower Arrangements for Spring time. These arrangements will add a pop of colors and incredible fragrance to your room. Or make an arrangement to gift to a loved one.
FAQs
How do you make a simple flower arrangement?
All you have to do is pick the flowers you want. Find a vase or container that is going to work with the size of flowers. Cut the ends, and arrange in the vase, and display.
How do you make inexpensive flower arrangements?
If you want an inexpensive flower arrangement I recommend heading to the store and picking up flowers. Then come home and use a mason jar, or vase that you have on hand and re-arrange the flowers in the vase.