Looking for some teen girl bedroom ideas? A teenage girl's room is her safe haven. It's where she goes to unwind and socialize, and sometimes to study. That's why it's important for it to truly feel like her space. Make it happen with these home décor accents, all available from Amazon. Here are some cute teen bedroom ideas to fit within a budget!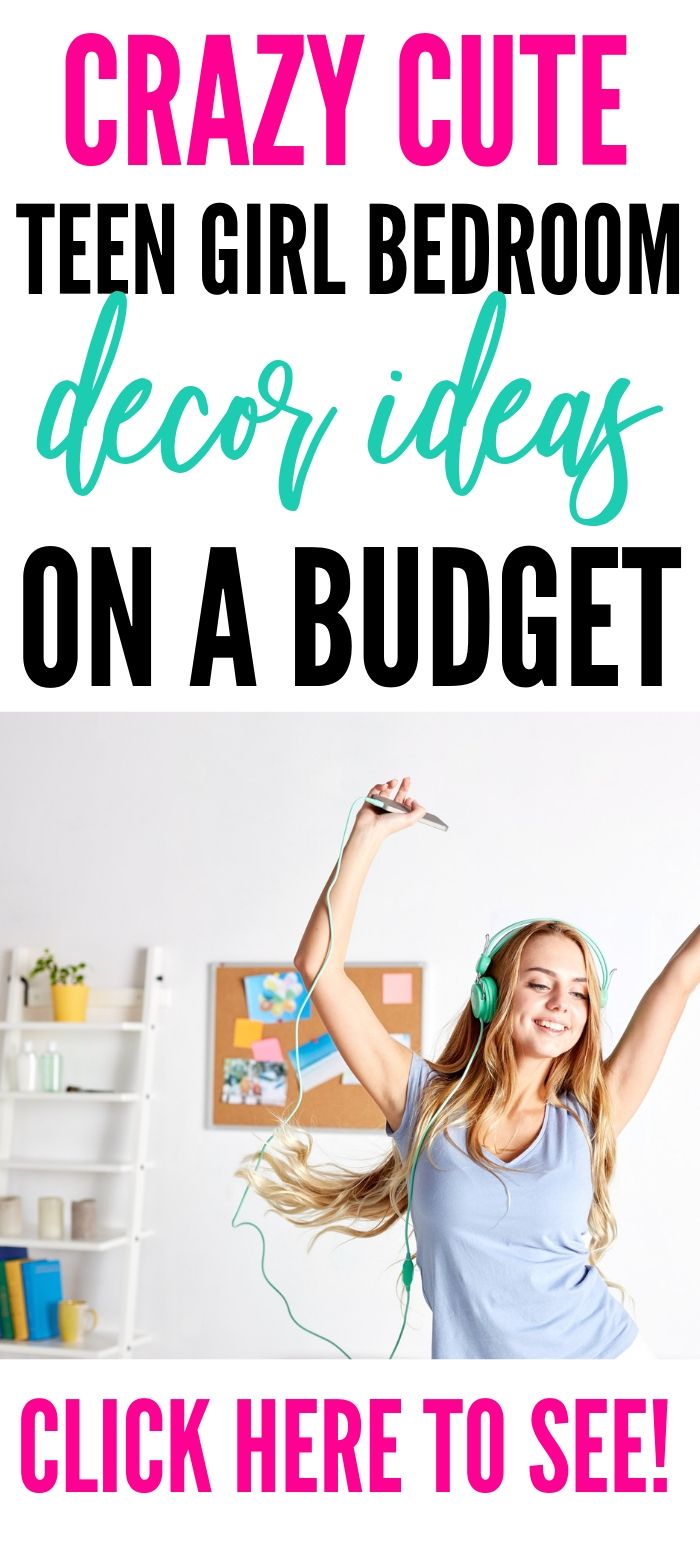 All of these pieces can be purchased on Amazon! So if you are a Prime member snag that 2-day free shipping and enjoy!
As an Amazon Associate, I earn from qualifying purchases, if you order from one of the links listed below.
Teen Girl Bedroom Ideas
Cell Phone Desk Stand Holder
Fashion Wireless Keyboard and Mouse Combo
Pack of 2 Cozy Fleece Throw Pillow Cases Covers
Cell Phone Stand
If your daughter streams YouTube videos from her phone, she needs a stand to hold her phone. This will keep her from holding it in an awkward pose for extended periods of time. These cell phone stands come in a few metallic colors to match any girl's room.
Colorful Wireless Keyboard
Make your daughter's study time more exciting with a colorful wireless keyboard! These colorful keyboards also come with a wireless mouse. There are several colors available to match anyone's desk décor, including pastel pink and mint green.
Decorative Pillow Case
Decorative pillows are an easy way to spice up any room. These Dahlia compass pillowcases give any room a more relaxed vibe. Place them on your daughter's bed, or throw them on a chair. All you need is an 18 x 18 inch pillow to put these pillowcases on!
Hammock Chair
Starry Fairy String Light,
Inhale Exhale Wall Art Prints
Indoor Hammock
Impress your teenage daughter's friends with an indoor hammock hanging from her ceiling! These hammocks can hold up to 265 pounds, so most girls will be able to relax in it. Toss some throw pillows on it while it's not in use to add a pop of color to her room!
String Lights
Indoor string lights aren't just for Christmas anymore! Any Pinterest search for dorm room ideas will pull up pictures of rooms using white or yellow string lights to brighten up a dark room. There are many styles and sizes available, since this trend has been around for several years. Here are some string lights that can be used both indoors and outdoors. Make sure the lights you purchase are approved for indoor use – you don't want to start a fire in your daughter's room!
Wall Art Prints
There are so many different prints your daughter can choose from to decorate her room. This set of prints can go in any girl's room, since they are black and white. For added effect, place the prints in frames! You can find prints on Amazon or art.com – the possibilities are endless!
Mainstays Faux-Fur Saucer Chai
Wall Pops Gold Confetti Organization Kit
Gold Wall Decal Dots
Comfy Saucer Chair
Saucer chairs are perfect if your daughter's friends hang out in her room. These comfy chairs are available in 19 different colors! If your daughter's bedroom isn't a hangout spot, these chairs can still be useful for storing large stuffed animals. Now, she has a place to put that giant stuffed bear she won at the county fair!
Whiteboard Calendar
High school is stressful, so it's important for your teen to keep track of her responsibilities. Although planners are a must-have, whiteboard calendars provide your daughter with an extra place to write reminders while spicing ip her room at the same time. Whiteboards save paper, since they can be reused endlessly. Whiteboard calendars come in monthly and weekly styles, and some even have cork boards attached to hang up physical notes!
Wall Decals
Removable wall decals are a great way to add some flair to bedroom walls that may have been painted while your daughter was much younger. It's hard to go wrong with polka dots in a metallic color. Place them on one wall to create an accent wall, or place them all over the room. Since these wall decals won't peel the paint off her walls, she can have fun experimenting with different styles!
RaseHouse Cactus Ring Holder Dish
Decorative Ring Holder
Decorative jewelry holders are fun, yet functional. Cacti are trending right now, so show your daughter this ring holder for her vanity or night stand. Fast fashion stores sell other styles, so she'll have many to choose from.
If your daughter changes her mind as often as she changes her clothes, you'll need to make sure that every piece of décor is removable without causing damage to your walls. Always read the fine print on items before you buy them! These are affordable and fun teen girl bedroom ideas that might help give you inspiration.
Buy these items for birthday gifts, holiday, dorm room items, and more. I know I always loved a decorated room when I was a teen!
What is your favorite teen girl bedroom idea that you like the most from the list above?