Wine Bottle Unicorn Craft is a fun and easy unicorn DIY you might really enjoy making. Use it to display in your home, pour wine in for girls night, or gift to a unicorn lover!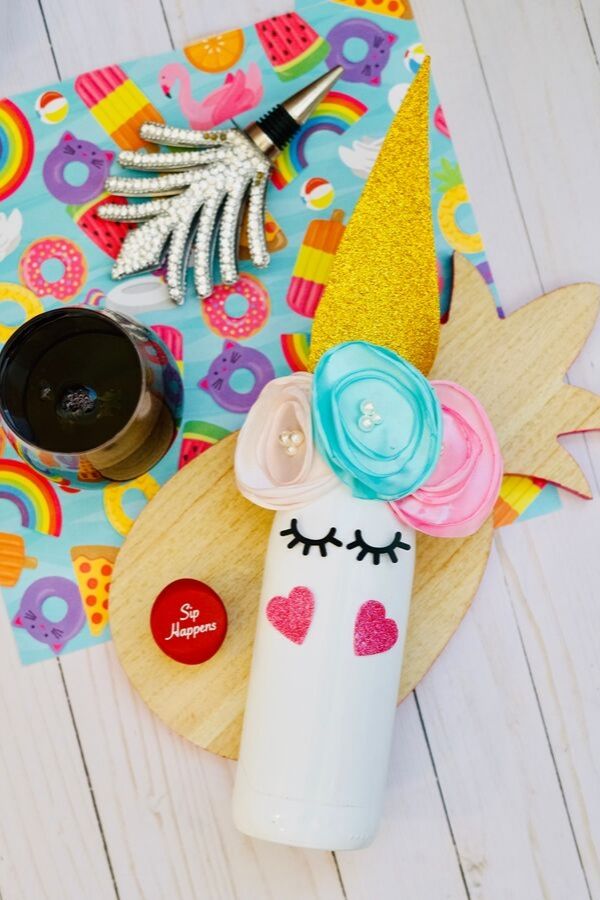 I wanted to upcycle a wine bottle, so I came up with this super easy unicorn craft. I think it turned out adorable!
Unicorn Craft
Unicorn crafts are everywhere! From Unicorn kits
for making slime, unicorn pillows and more.
This craft is more meant for adults, but it can be a fun item to display on a shelf higher up in a child's room to where they can't reach it.
DIY Unicorn Wine Bottle Craft
The first step to this craft is removing the labels on the wine bottle. I found that goo-gone
is great for getting any excess sticky off the bottle. I soaked the bottle in hot soapy water for 10 minutes and then began to work off the label. Then used the goo-gone to get any excess off.
If your bottle is not white, then you will want to spray paint the bottle white. I recommend using a flat white spray paint
.

Supplies Needed For This Rainbow Unicorn Craft
Here is what you need for this unicorn craft idea! You might be able to find some of these items at a local craft store if you prefer.
Can I Use A Different Type of Bottle Instead of Wine
Yes, you can. If you don't drink wine, that is totally fine! You can buy glass wine bottles
online, or find any other long neck style bottle
to use for this craft. Or even opt to use a mason jar instead.
See how easy and adorable this is! If you have a full bottle of wine, you can serve this up for girls night, to add a fun playful spin on things!

What Type of Glue To Use For Unicorn Craft
I used crazy glue, but you could totally use a hot glue gun. Whichever you prefer will work great on getting the items to stick.
Looking for more unicorn craft ideas
Unicorn rocks | Here is a fun rock project that transforms all different shapes and sizes of rocks into unicorns!
Easy Unicorn Costume | Here is a project that is great for around Halloween, or for a child who enjoys playing dress-up a lot.
Yield: 1 bottle
DIY Wine Bottle Unicorn Craft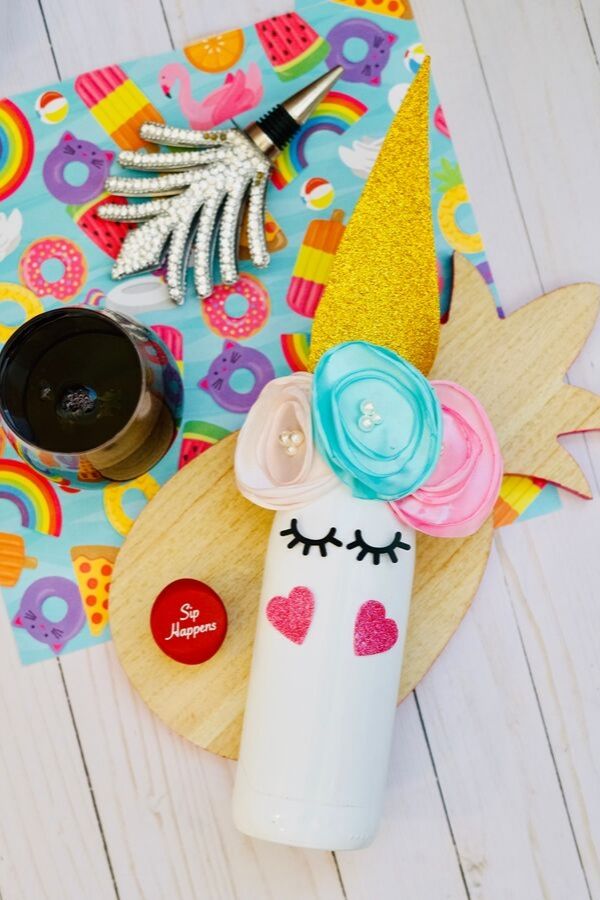 DIY Wine bottle unicorn craft is a fun and easy way to transform a bottle into a magical unicorn.

Prep Time 10 minutes

Active Time 10 minutes

Total Time 20 minutes

Difficulty easy

Estimated Cost 10
Materials
Gold Glitter Paper
Unicorn Eye Stickers (Hobby Lobby)
Pink Glitter Hearts (Dollar Tree)
Flowers
Wine Bottle
Glue
Scissors
White Flat Paint (if the bottle isn't white already)
Instructions
Start by painting your bottle white, if your bottle didn't come white. Once it dries you can move on to the next step.
Take the gold paper and cut a large triangle out, and ensure it will wrap around the neck of the bottle. This is going to be the horn of the unicorn.

Now take your flowers and glue them around the bottom of the unicorn horn to hide it.
Then glue on the eyes, and the two pink hearts to act like cheeks.
Recommended Products
As an Amazon Associate and member of other affiliate programs, I earn from qualifying purchases.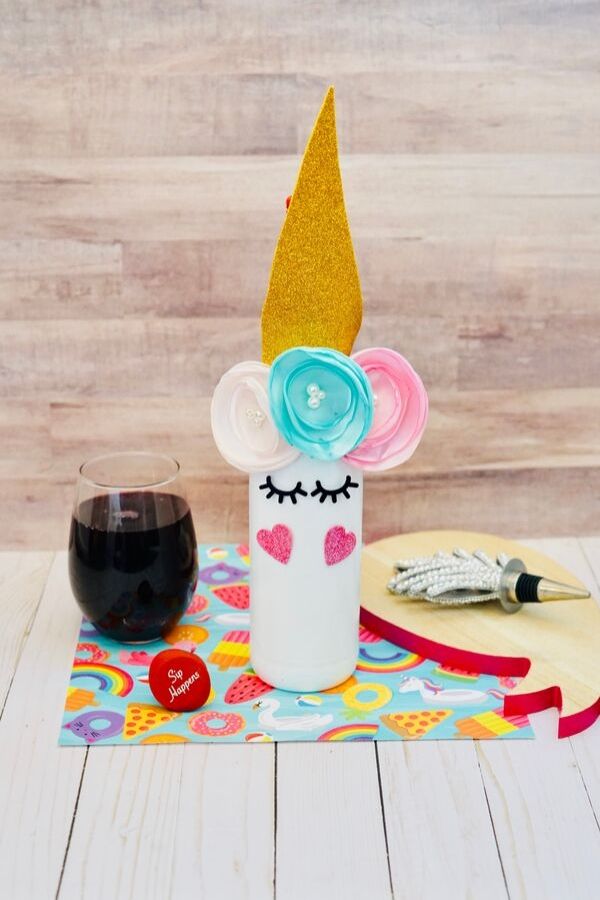 As you can see this takes minutes to make and is so fun and playful! Don't wait and make a fun magical unicorn for yourself! You are never too old to dream!