Here is a super simple upcycle tin cans Halloween Cricut craft. You can grab most of your supplies at the Dollar Tree for an easy and affordable DIY Halloween craft. You can also make this small tin can Halloween DIY craft with a Silhouette machine.
Snag my free Halloween SVG and create a fun and simple tin can craft to showcase in your home, fill with candy as a gift, and more.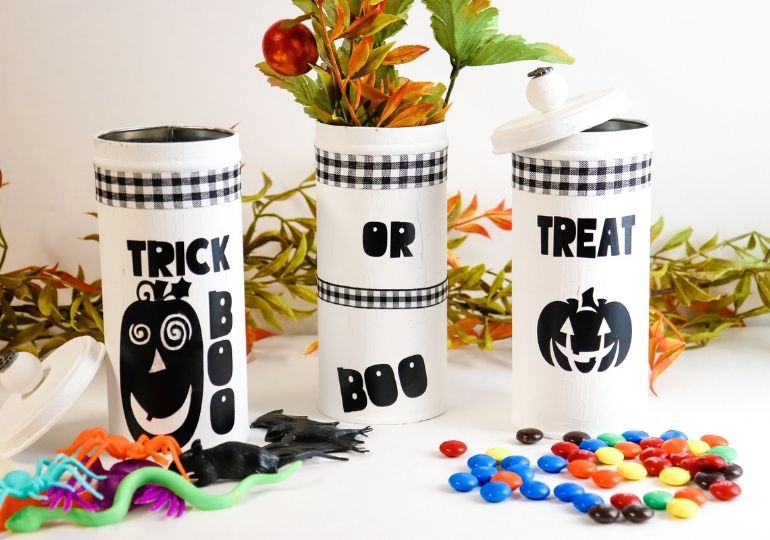 Why This Cricut Halloween Craft
Halloween Project – An affordable and easy Cricut Halloween idea you can do in no time. Just grab some tin cans, jars, etc. Paint and then apply your vinyl decals.
Dollar Tree Halloween Craft – I used Pirouline Cookie tin and then painted with craft paint. You will find even some stores carry vinyl which you can buy from there as well.
SVG Cut File – You can snag the Free SVG File to use for a Cricut vinyl for design. Then use as a gift idea, fun kid craft to do with your older kids, etc.
Tin Can Upcycling Idea – A super easy and fun way to use a tin can or container in a new way.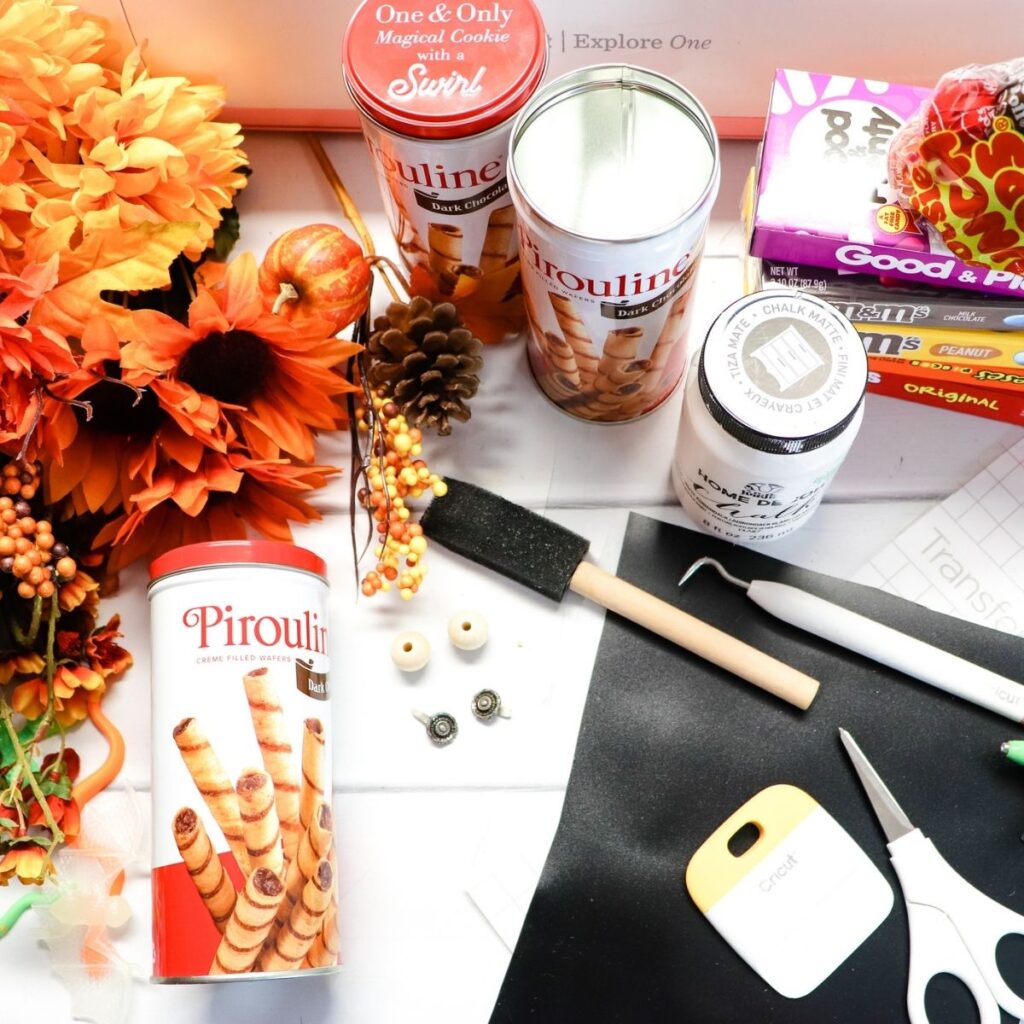 What Do I Need For This Craft
3 Pirouline cookie tins with lids from Dollar Tree or grocery (or 3 other same size tins with lid)
Knobs or Wooden Balls for top of lid
Foam brush
Buffalo Check ribbon 5/8" wide
Hot glue gun and hot glue sticks
Cricut machine or Silhouette Machine
Transfer paper
Fall DIY Projects | Fall Leaf Wreath, Pumpkin Kisses Wreath
Where to Get FREE SVG File
The file looks white, but once you load into Cricut or Silhouette you will see the color of the words and pumpkins.
Quick Walk Through On How to Make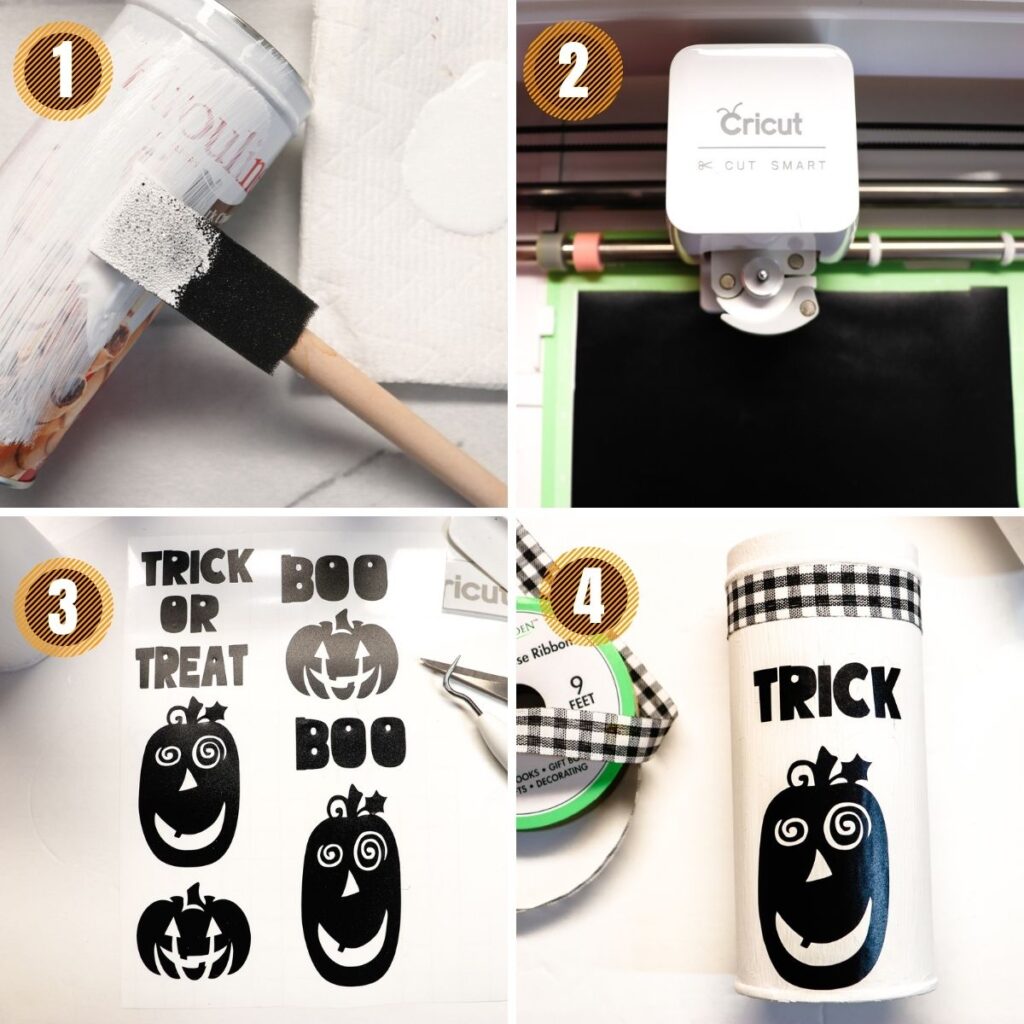 Start by painting your containers white. Then download the SVG file, load it into Cricut or Silhouette.
Place Black Vinyl (or any color) on cutting pad, and select your vinyl setting.
Cut out the words, and weed pulling away excess vinyl.
Take your painted containers, and place the words on the tin how you would like.
Use transfer paper to apply the words, then hot glue ribbon at the top of tin.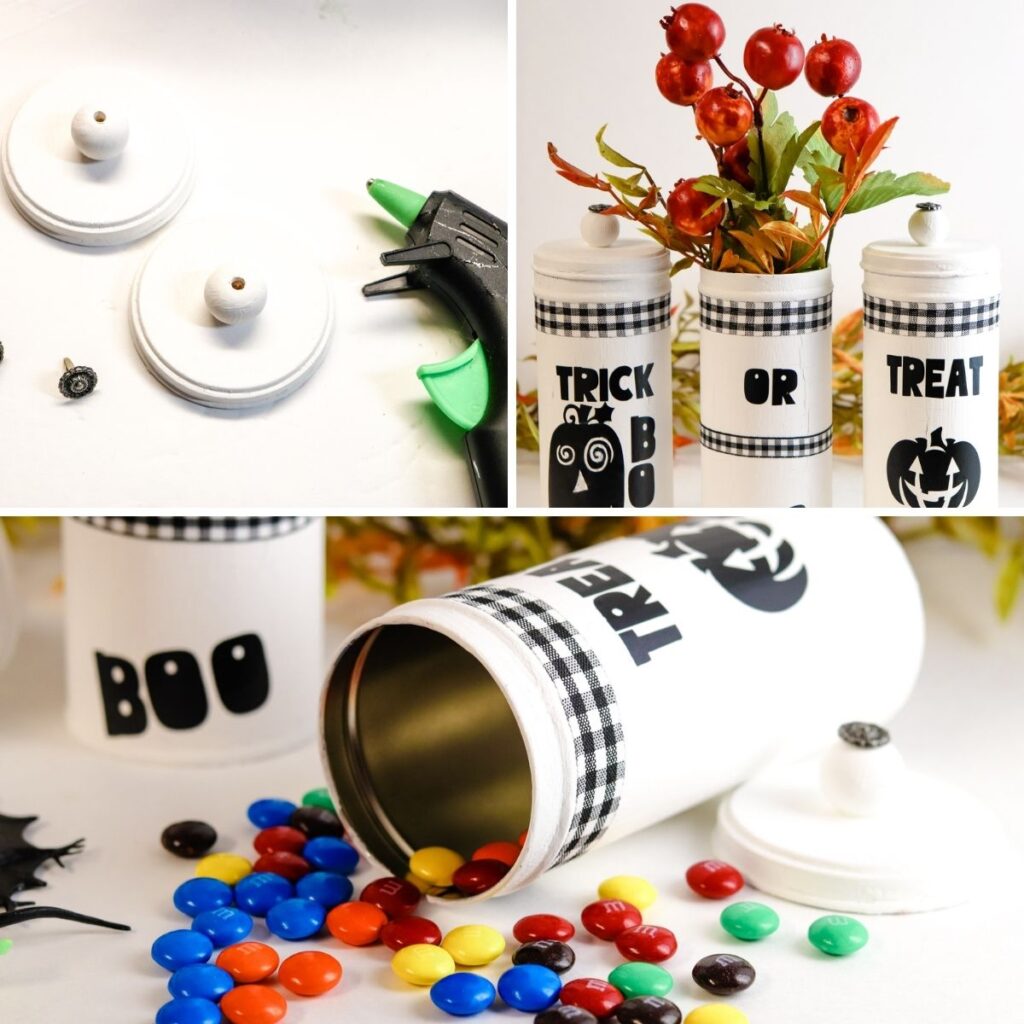 You can glue on beads, brass fasteners, etc. to your liking.
Fill containers with candy, use as a vase for flowers, etc. You can pick how you display these containers or gift to a friend or family member. This DIY Cricut vinyl craft is super easy and fun!
Expert Tip: There can be some crackle effect to the tin after you paint it. That is normal and depending on the container you can experience this.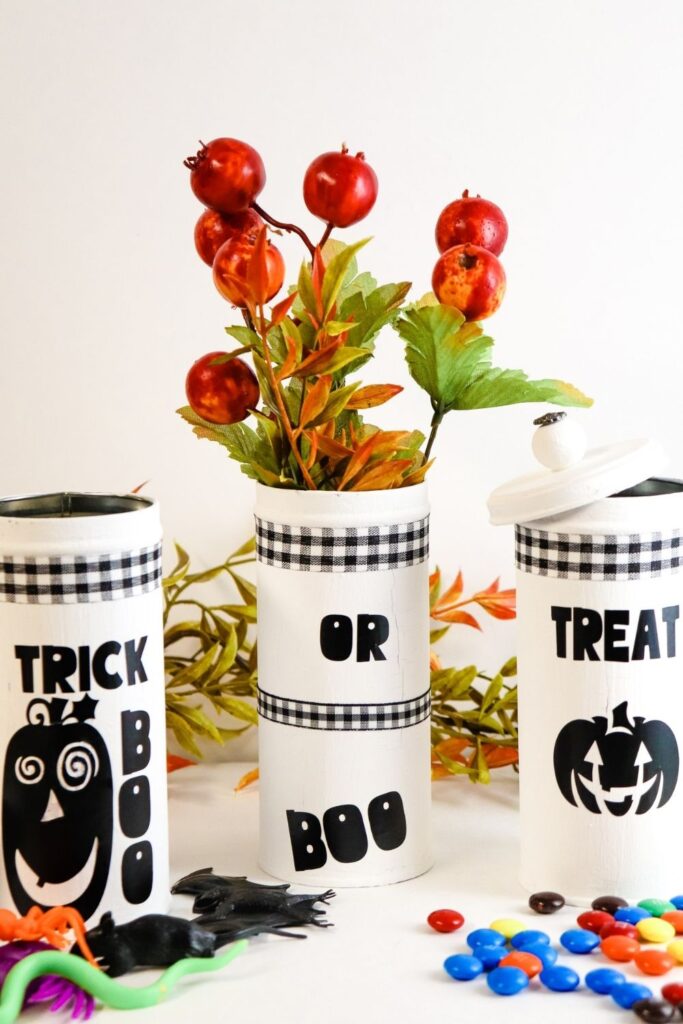 What To Do With Halloween Tins
Place flowers inside for a centerpiece
Candies
You can honestly do anything with these tins. Or you can just place them on a table and showcase without having anything in it.
More Cricut Crafts
Yield: 3 cans
Tin Cans Halloween Cricut Craft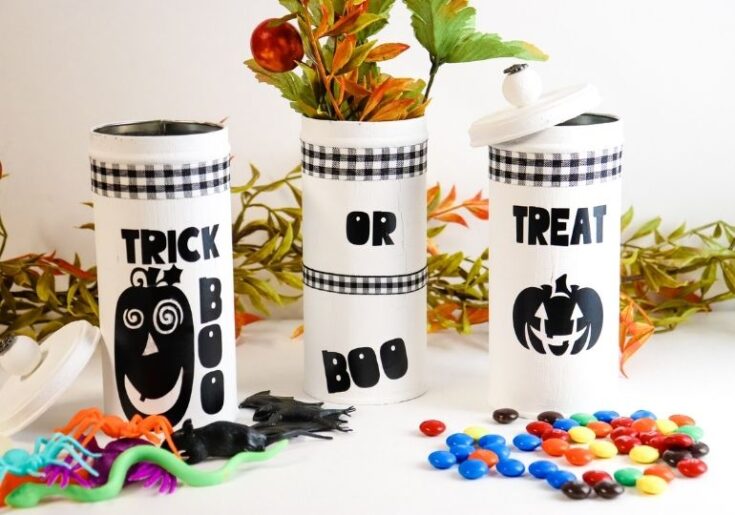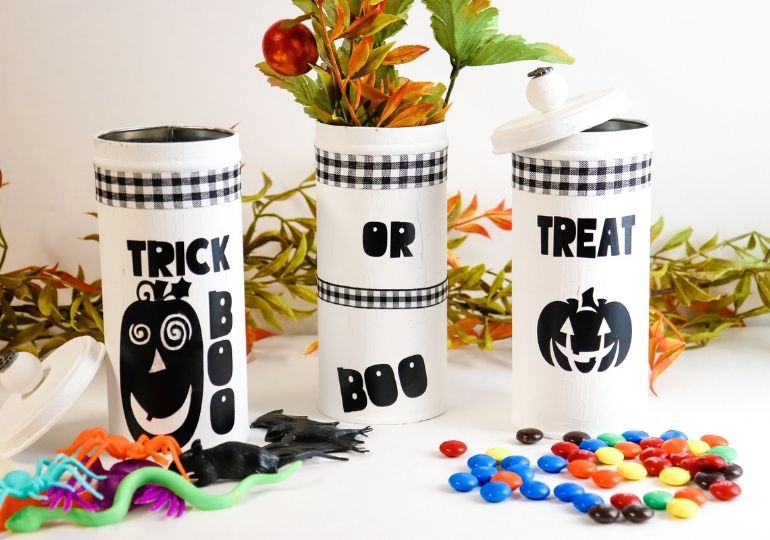 Here is an upcycle tin can Halloween Cricut craft, or Silhouette. A fun Trick or Treat themed craft that you can gift or showcase in your home. All items can be found at your local Dollar Tree as well (except machine). Give it a try today for a Spooktacular Halloween DIY project.
Total Time
1 hour
40 minutes
Materials
3 Pirouline cookie tins with lids from Dollar Tree or grocery (or 3 other same size Fall Florals
Halloween candy
Halloween toys such as: spider rings, snakes, skeletons, bats, etc
Tools
Foam brush
Hot glue gun and hot glue sticks
Instructions
Paint your containers white all the way around. I did 2 coats of paint on my containers.
Download the SVG file and upload into your Cricut or Silhouette program.
Place your black vinyl in with the cutting pad and select the vinyl option. Then print out the file on the vinyl.
Once the paint is completely dry, you will then cut out your vinyl designs and place on the tins how you like.
Weed your design removing all the unwanted vinyl then use transfer paper to apply the vinyl onto the containers. I spread out the designs to all 3 containers.
Then with your hot glue gun you will measure and glue on the ribbon on the top and bottom of the tins if you like the look.
Hot glue the beads to the painted lids, paint if you want. You can place a brass fastener on top in the hole of bead if you want.
Fill the Trick or Treat Halloween tins with toys, candy, or even floral arrangements.
Notes
Silhouette or Cricut - This works on either a Cricut or Silhoutte machine.
Color - If you want to paint your tins orange, purple, etc. go for it. Then use a different color of vinyl like white to allow it to stand out nicely.
Paint - The paint can crackle a bit, if it does know that is normal. Depending on the paint and type of container you paint you will find it can crackle a bit.
SVG Halloween File - The file looks white but once you load to your Cricut or Silhouette it will show the Halloween pumpkins and words.