Galaxy Jars are a fun and creative Nebula Jar activity your children will love. Learn how to make galaxy jars with cotton balls, paint, and a few other supplies. Fun indoor craft kids will go nuts for.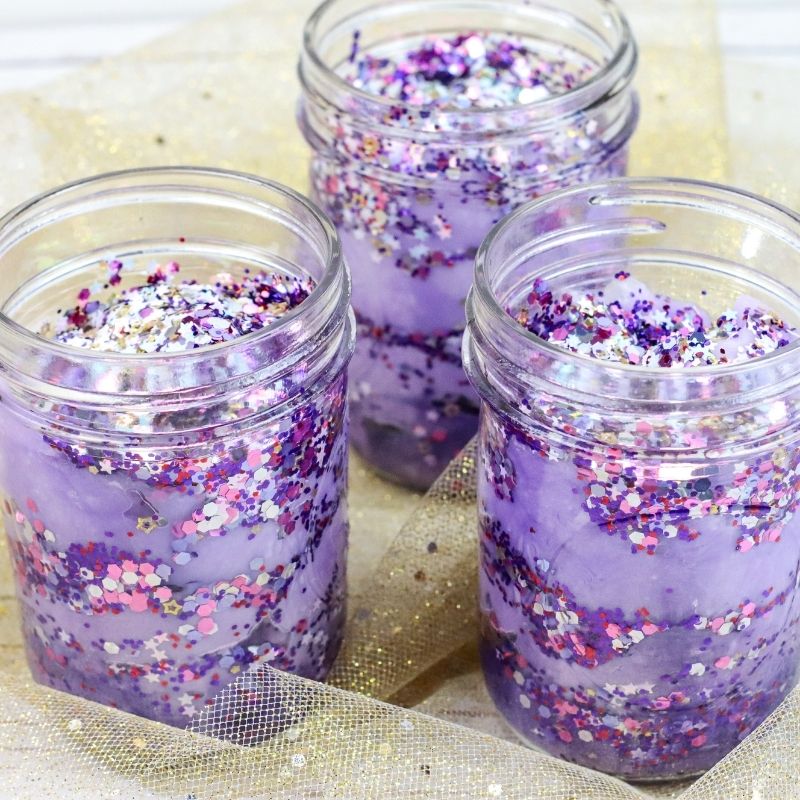 This can be a really fun galaxy sensory bottles activity as well. If you make it as calm down bottle I recommend a plastic container instead of a mason jar.
I will walk you through step by step to help you create the night sky in this cotton ball galaxy jar DIY activity! A kids craft even adults will have fun.
Why You Will Love This Galaxy Jar…
Easy
Simple Supplies
Kid-Friendly Craft
Indoor activity for rainy days
A fun galaxy painting idea
Supplies Needed
Cups for Mixing
Large Cotton Balls
How To Make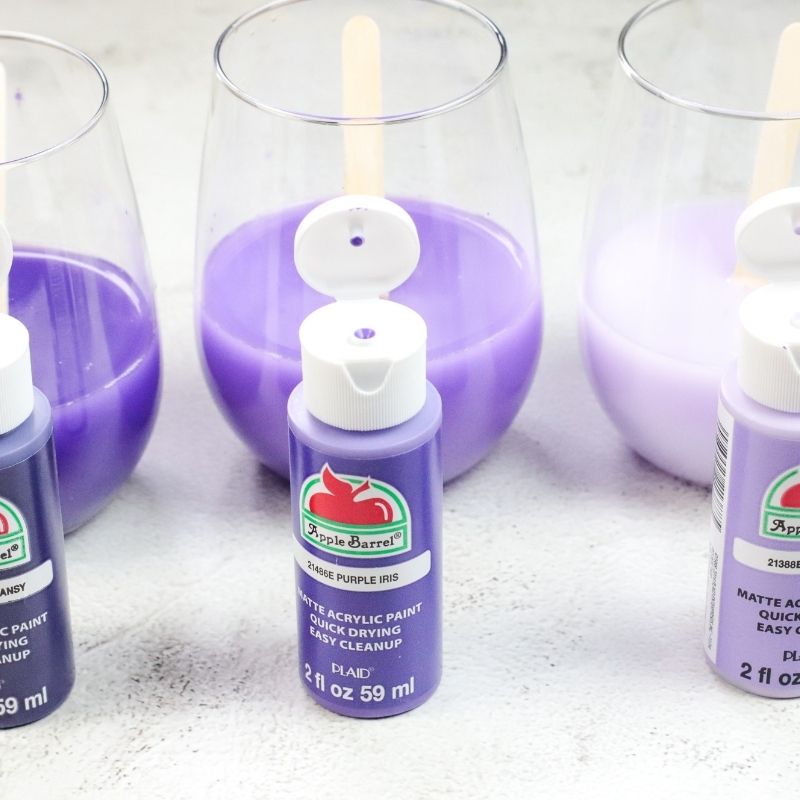 Step 1: Start by taking your 8 ounce cups and fill about 3/4 full of water. Then add 4-5 drops of paint into each cup. Stir well with a craft stick.
I did an ombre of colors. As you can see in my picture how different the colors are in terms of shades of purple.
Step 2: Now you will take your cotton balls and stretch them out a bit. And put them in the mason jars. You want to fill with about 1/4 of the way with cotton balls.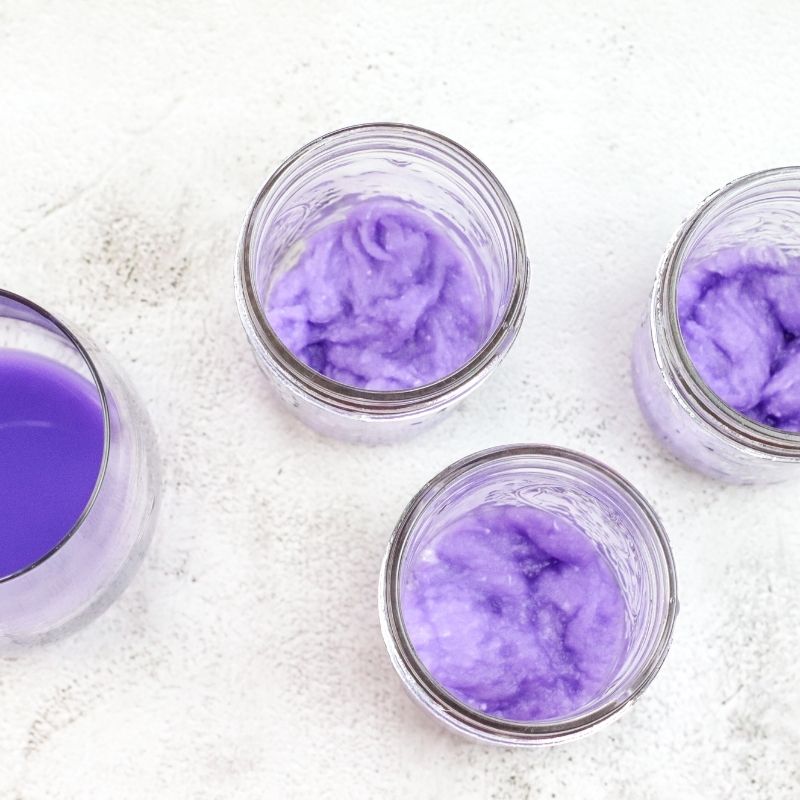 Step 3: Pour just enough of the dark paint for the cotton balls to soak up all the bright purple paint. You don't want to soak the balls.
Step 4: Add in some of the glitter and stars, you can use your craft stick to help move the glitter around and push down gently into the sides of the jar.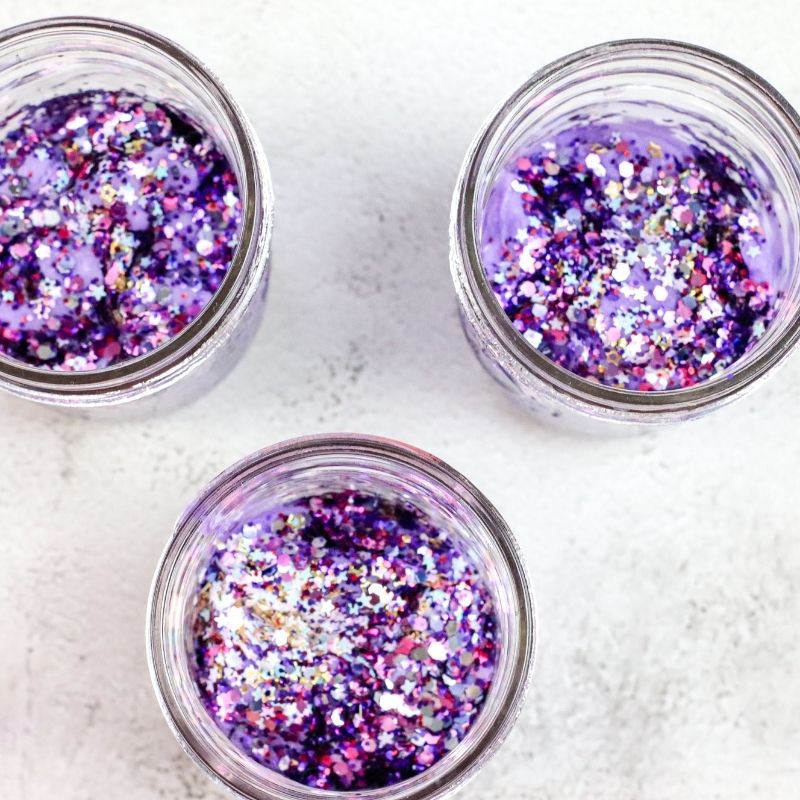 Step 5: Now you will add more cotton balls, followed by the medium color of purple paint. Add just enough liquid for the cotton balls to soak in the color. Top with glitter and stars, pressing down into the sides so you see it on the edges.
Step 6: Repeat the process again with the lightest color of paint on top. You will want to fill the mason jar completely full with cotton balls, then pour in the paint. Just enough to soak in.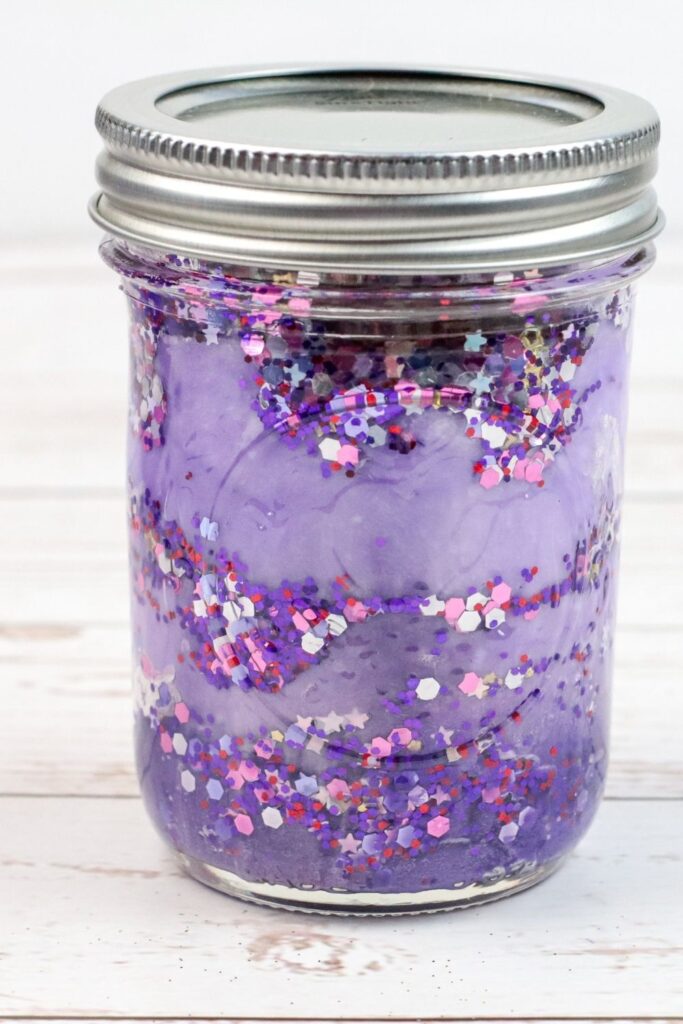 Step 7: Screw on the lid, and have fun with your galaxy jar.
Expert Tips
Make sure to not add to much of the paint water to each layer. Otherwise it will create a "muddy" look and not showcase the layers of color.
You can make these jars any color you would like. I did purple but feel free to do any colors of ombre you would like.
Use any size jar you would prefer, or plastic container for that matter.
Wooden craft sticks are great for moving the glitter around to where you want it. That way when you are done you can toss it out.
Galaxy Jar FAQs
Can I add more water at the end to the galaxy jar?
Yes, if you want the colors and glitter to float around add a bit more of the colored paint water right into the jar. Then place the lid on nice and tight. Then roll the jar around and watch the colors and glitter look like a galaxy in the sky.
Why do you add cotton balls to galaxy sensory jar?
The cotton balls truly add texture and help keep the colors separated at first. Then as you twirl and move the jar around, the colors will mix. It becomes even more complex. Then you get little pops of the cotton ball which make it look like outer space.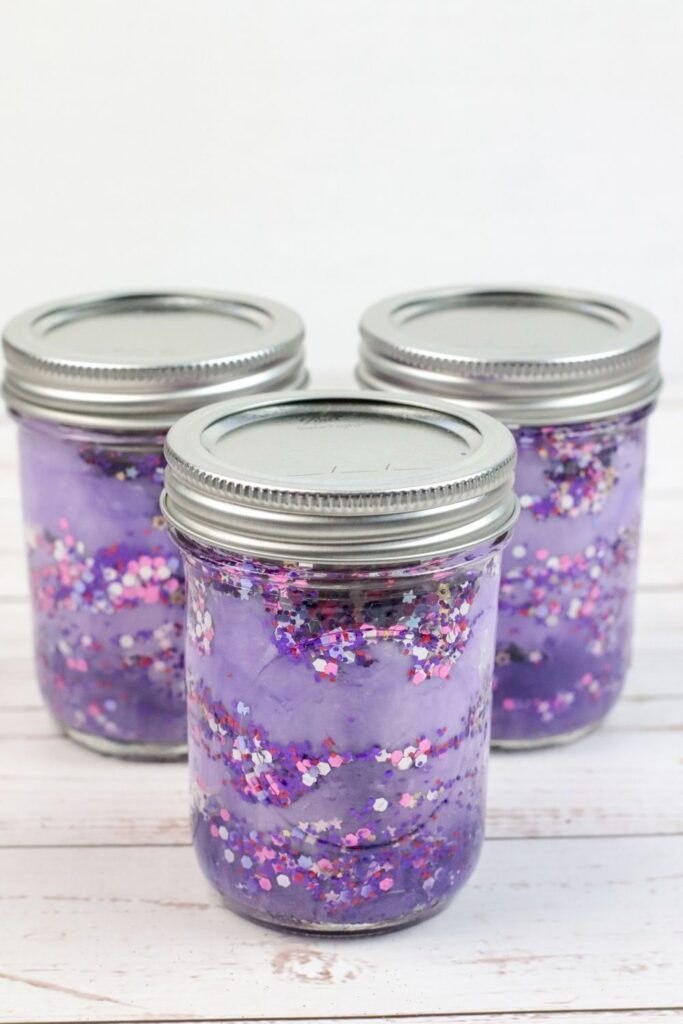 Looking for more galaxy crafts
Yield: 3 jar
Galaxy Jar DIY Craft For Kids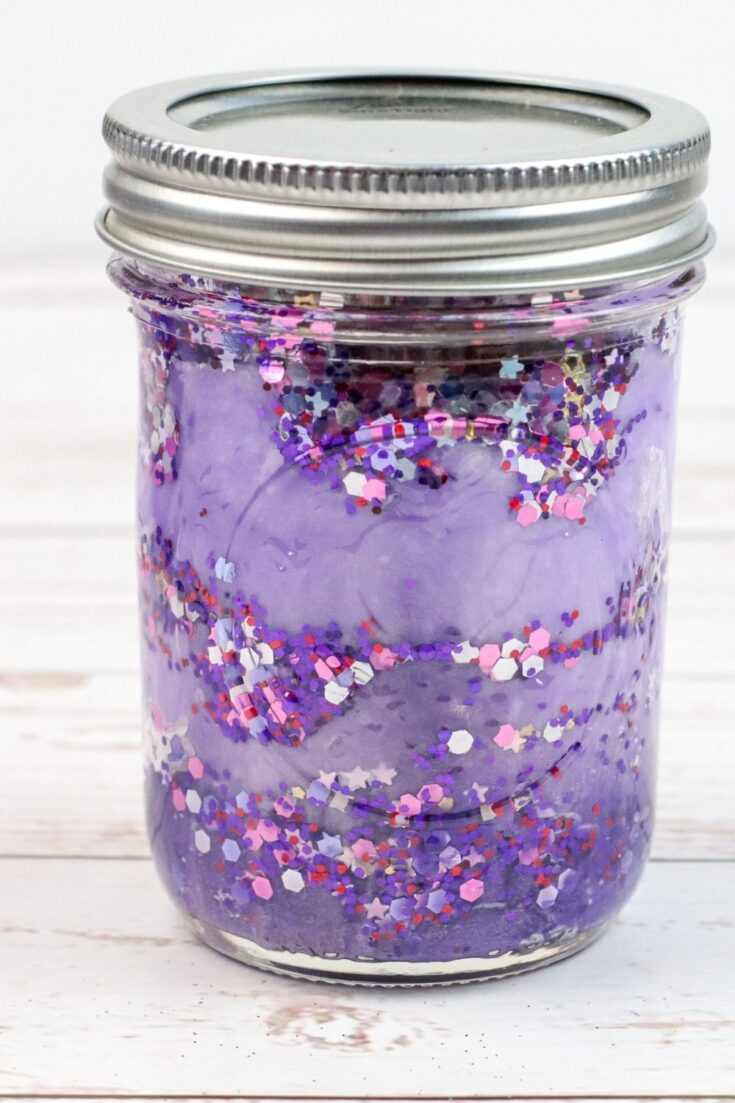 Galaxy Jar DIY Craft For Kids is a fun and colorful DIY craft to make indoors. This is an out-of-this-world craft that is colorful and full of glitter. A fun indoor activity to do on a rainy day.
Materials
3 - 8 ounce Cups for Mixing
3 Mason Jars
Large Cotton Balls
Instructions
The first thing you want to do is take your 3 cups and fill them about 3/4th the way full of water. Then with each color of paint, add a few drops into one of the glasses, stir, and adjust color as you would like. I did an ombre look so I did 3 colors of purple.
Grab your mason jars and pull apart cotton balls and place a few in the bottom of each jar. I did around 1/3rd of the way full.
Now you will carefully add a bit of the darkest color of paint to the bottom. Only add enough liquid to get the cotton ball soaked in the color.
Now add in some classic, large, and glitter stars. Use your craft stick to push the glitter to the sides.
Then you will do another layer of cotton balls, followed by the medium-colored paint water. Add more glitter and carefully push glitter to the edges and such to see on the sides.
Then repeat with the last cotton ball - put enough cotton balls in to reach the top of the jar. Add in the lightest color and more glitter and stars.
Add in some extra water if it looks a bit dry.
Once done, seal the lid tightly, and enjoy your DIY galaxy jar.
Then twirl and move the jar to watch the galaxy jar mix, showcase the glitter, and just soothe you.
Notes
You can use any colors of paint you want. I used 3 different shades of purple.
Once the jar is made swirl it around and watch it mix and look like pieces of the galaxy in the sky.
If you are making this for younger kids, you can use a plastic container instead of a glass mason jar.
Use any style of glitter you would like.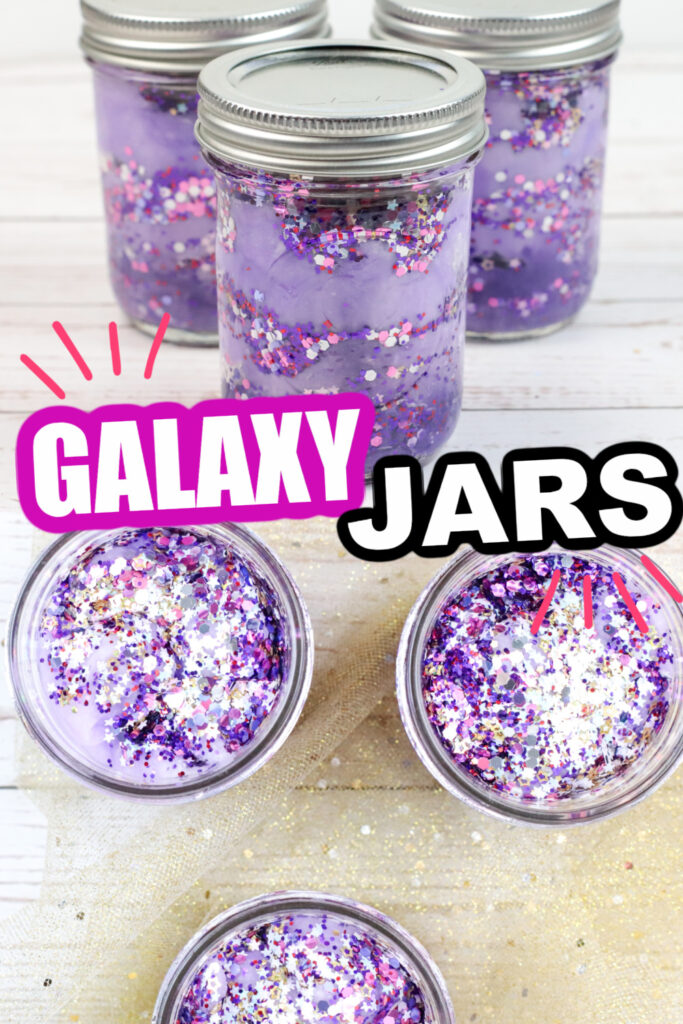 Let me know how you like this DIY galaxy jar craft. It is a fun space galaxy mason jar idea we do a lot on rainy days.