TikTok did it again, they hit us with what they call Corn Ribs! Corn on the cob that is sliced into quarters, then grilled to golden juicy perfection. This corn recipe is seasoned with garlic and butter for one incredible summer side dish.
Dive in to these corn ribs with your favorite main dishes. Whip up a Blackstone Smash Burger, or even Chicken Kabobs! No matter what, these corn bites are finger licking good.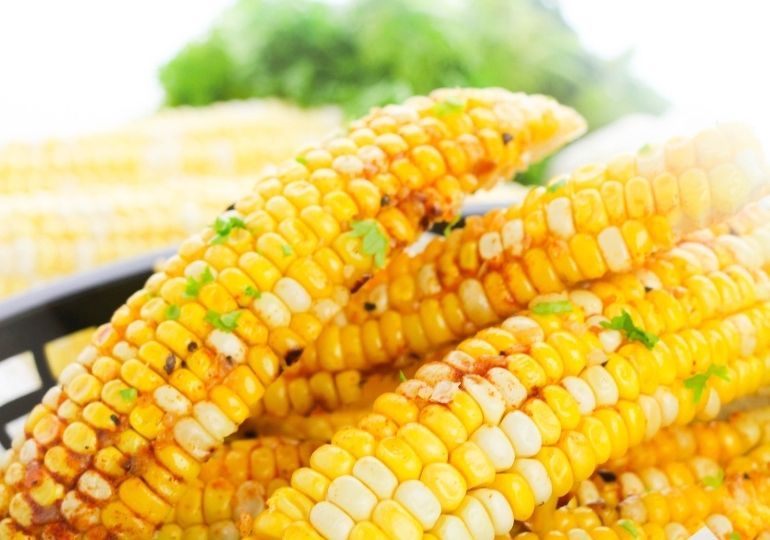 This is an easy side dish recipe that can be thrown together in no time. The longest part is cutting the corn into quarters! It is easy peasy, and one vegetable side dish even kids want to eat.
This Corn Ribs Recipe Is…
Gluten Free
Summer Side Dish – Perfect for Sweet Corn
5 Ingredient Recipe
Garlic Butter Corn on the Cob Recipe with A Twist
Ready In About 20 Minutes
Can Be Made Vegan – Swap out for vegan butter substitute
How To Make Corn Ribs
Full directions for this recipe are in the printable recipe card at the bottom of the post. Just scroll down for measurements and the full how-to!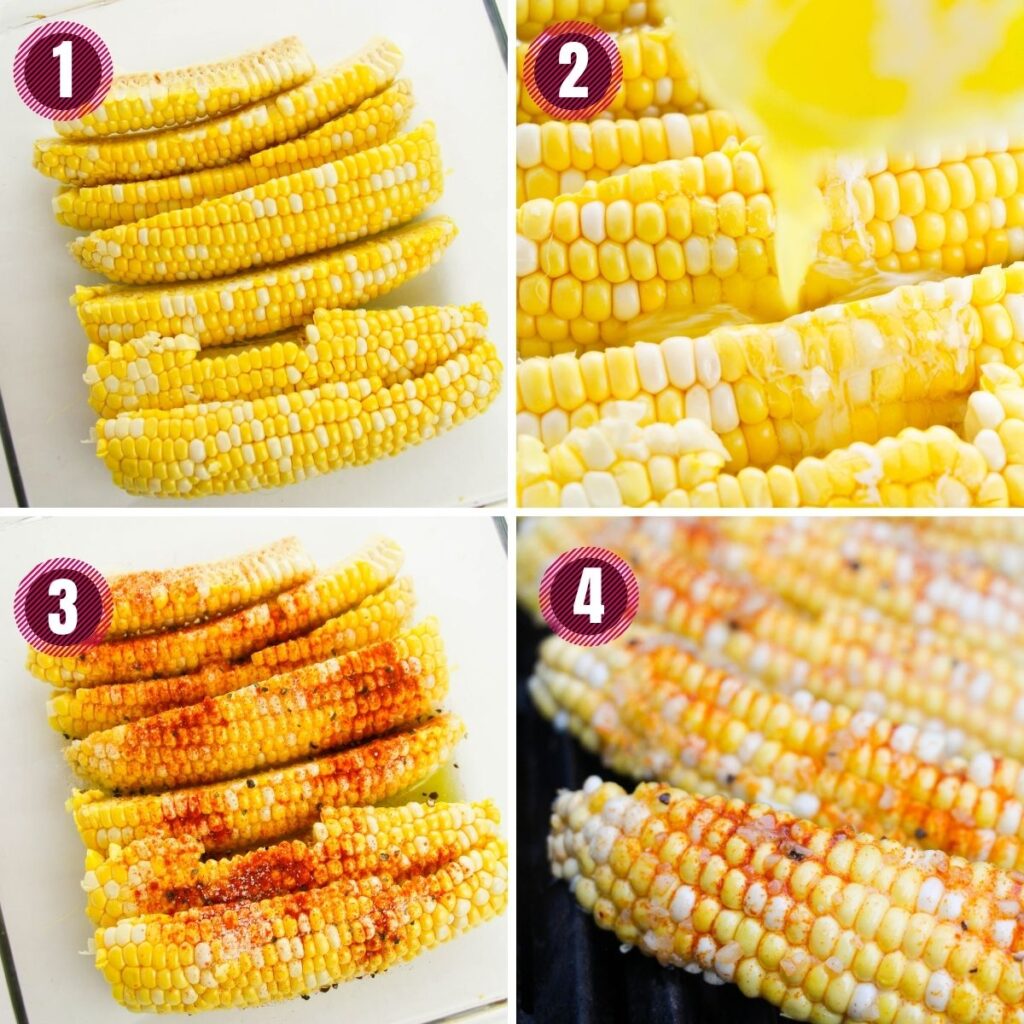 Quarter your corn on the cobs.
Drizzle with melted butter and oil.
Sprinkle with seasonings and garlic.
Toss on the hot grill and let cook until charred and they begin to curl in like ribs would look like.
Serve this corn warm with your favorite main dish!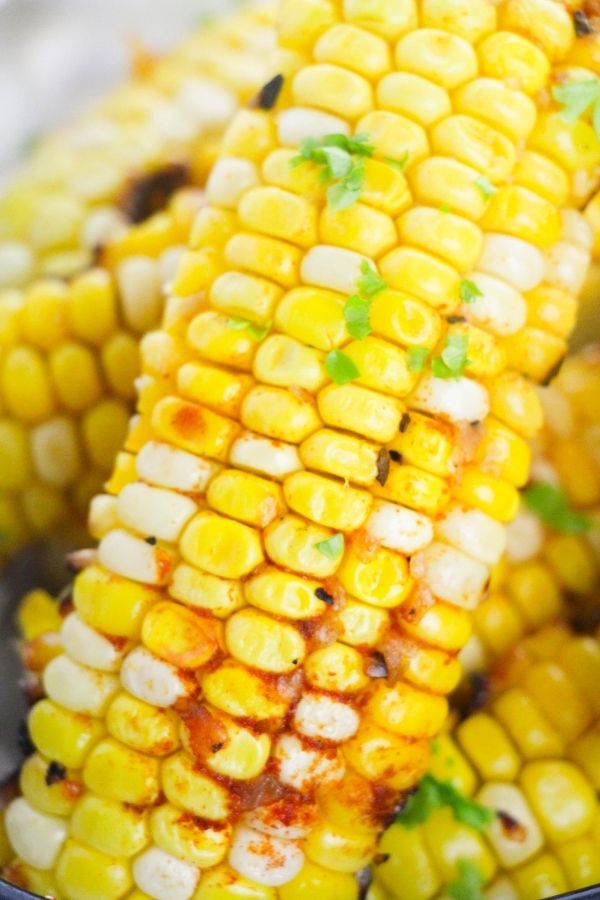 Expert Tips
Coat Corn Well
Make sure that you coat your corn well, otherwise you will find it will cook unevenly. You want the oil and butter to help lock in moisture to the corn kernels to keep them juicy.
Cooking Corn
If you don't want to cook on a classic grill, reach for an air fryer (cook at 375 degrees) or even in a grill pan in the house.
Pull When The Corn Curls
When cooking ribs, the ribs curl in as they cook. This is what you are looking for with this corn on the cob recipe. So be patient and once you see it curl, remove from the grill.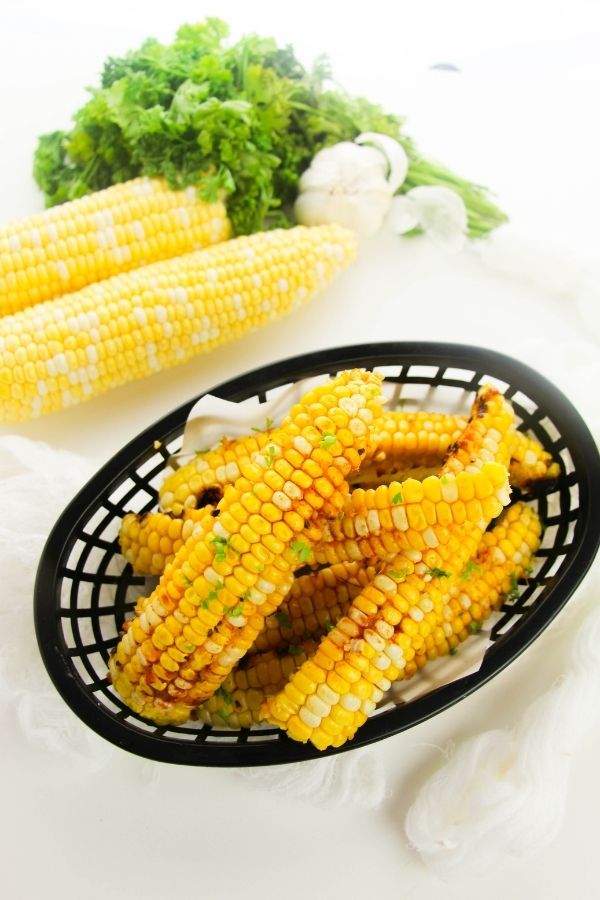 Variations To Corn Ribs
Season with other ingredients and spices. Creole style, lemon pepper, spicy ingredient blend, etc. Feel free to get creative and use any flavors of spices.
To make this recipe vegan, use a butter substitute. Then cook the same way as you would the regular corn.
Drizzle with more butter when it is done, for an extra buttery side.
Olive oil has a tendency to smoke a lot when it gets too hot, I recommend using a canola or vegetable oil for this recipe.
Corn Rib FAQs
What are corn ribs?
TikTok had a recipe go viral where they diced up corn on the cob, and then seasoned and grilled the ears of corn. As the corn cooks it curls in like a pork rib. So the person who created the recipe called it corn ribs.
How to store leftovers?
Store any of your leftovers in the fridge in an airtight container for 3-4 days. Now, to reheat you can warm in the microwave for a quick reheat.
Can you freeze leftovers?
Unfortunately these corn ribs will not freeze well. You will find the texture becomes almost rubbery-gummy when you bite into the kernels.
Connect with me on Facebook for more DIY Crafts, Home Decor, and more. As well as Pinterest!
Yield: 16
TikToks Corn Ribs Recipe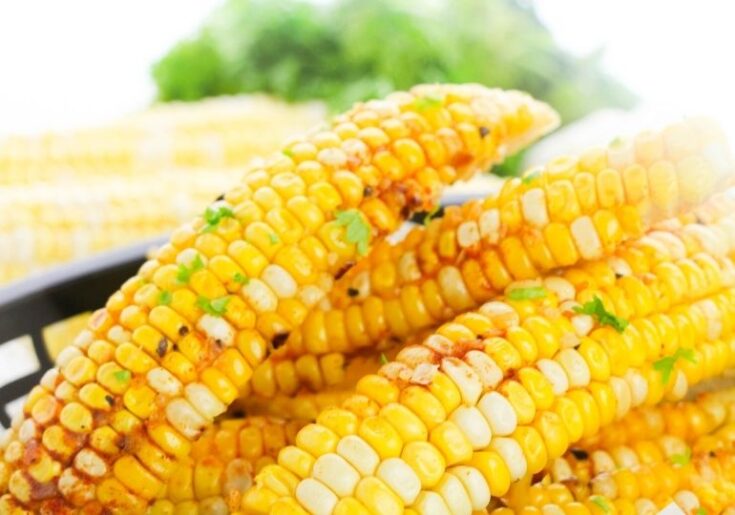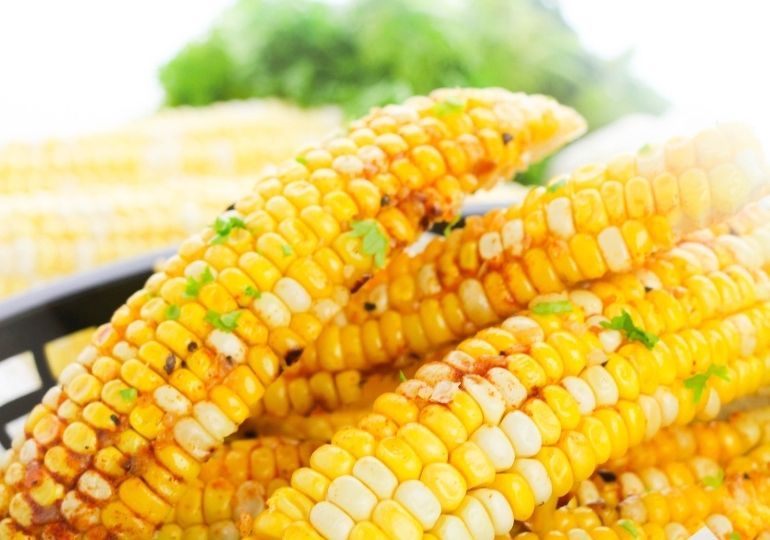 TikToks Corn Ribs Recipe is a delicious and new way to cook corn on the cob. Sliced corn cobs that are grilled and seasoned with butter and garlic. A must make new summer side dish recipe.
Ingredients
4-5 Corn Cobs
4 Tablespoons Butter, melted
2 Tablespoons Canola Oil
2 1/2 teaspoons Minced Garlic
1 teaspoon Paprika
Salt and Pepper, to taste
Instructions
Slice your corn on the cob in half. Then slice in half again making long quarter strips of the corn on the cob.
Place your corn in a container and then set aside.
Melt your butter, and then drizzle over the corn. Add on the oil and coat the corn.
Now you will season with paprika, salt, and pepper, and then add in the minced garlic.
Heat your grill to 400-500 degrees. Once hot place your corn ribs on the grill and let them cook for 6-8 minutes and then flip.
You will finish cooking the corn ribs until the begin to curl. Once they curl, remove from the grill, and serve hot.
Notes
Seasoning - Use any flavors of seasonings as you would like. Creole, red chili flakes, etc.
Storing - Store leftovers in the fridge in an airtight container for a few days. These corn ribs do not freeze well.
Double Recipe - You can easily double the recipe. Just cook the ribs in a single layer, so they can cook evenly.
Air Fryer - Want to air fry these ribs? Place in the air fryer at 375 degrees. Cook for 5 minutes, flip, and cook again until the corn is curled.
Cook Time - Depending on the cook time the corn will vary in how long or short it takes to cook. The reason being is all corn is different in terms of the size.
Nutrition Information:
Yield:
5
Serving Size:
3-4 corn ribs
Amount Per Serving:
Calories:

219
Total Fat:

16g
Saturated Fat:

6g
Trans Fat:

0g
Unsaturated Fat:

9g
Cholesterol:

24mg
Sodium:

134mg
Carbohydrates:

19g
Fiber:

2g
Sugar:

4g
Protein:

3g
Before You Go Check Out These Posts