Looking for an easy Grinch craft? Check out this Grinch Painted Rock Craft! A fun way to create your favorite Christmas character! This is an easy Grinch craft that needs minimal supplies to make.
Rock painting is a lot of fun, and this Christmas rock can be put on display, giving to a loved one, and more. Learn how to paint the Grinch!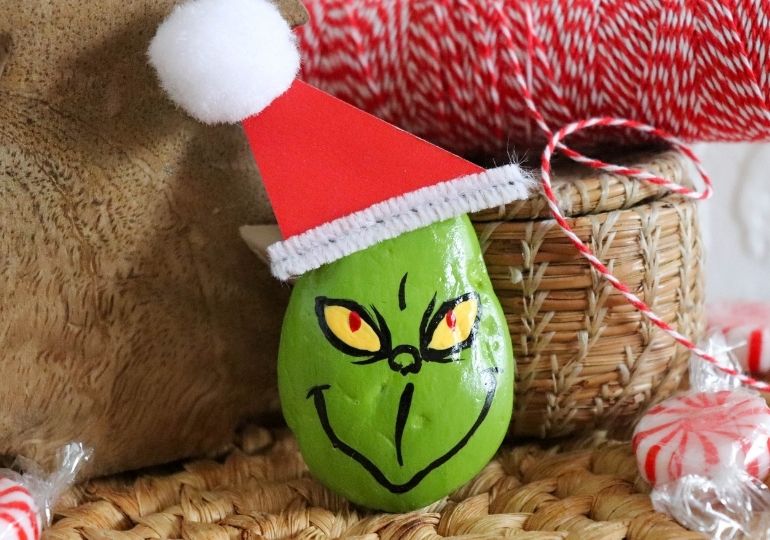 Why This Craft Is So Popular
Simple Supplies Needed
Quick to Paint
Affordable Christmas Craft
Fun for Adults and Kids
Fun Christmas Decor Craft or Gift Idea
Supplies Needed
Here are a few of the supplies needed for painting rocks!
Scissors
Pencil
Hot Glue Gun and Glue
How to Make
Full directions are in the printable How-To card below. This is a quick overview of the craft.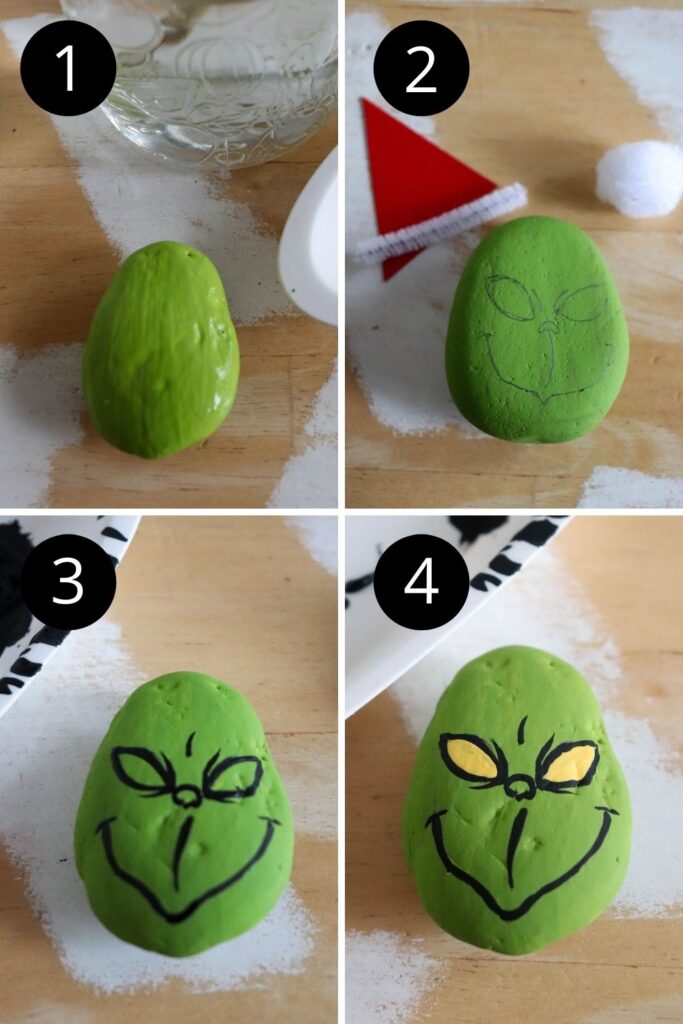 Step 1: Start by painting your rock green. Allow it to fully dry, depending on paint, you might need to do two coats.
For his hat, you will cut a triangle shape 1.5 x 1.5″ out of red cardstock. Then cut 1.5″ of a white pipe cleaner, that you hot glue on the bottom of the triangle. Then glue on the pom pom at the tip of the hat.
Step 2: Next, you will take your pencil and sketch on the Grinch face. He has somewhat of a sunflower seed shaped eye, small nose that connects between eyes. Curve line then his large smile. You can add on a few lines like I did.
Step 3: Now with a small tip paintbrush and the black paint, work on painting the lines you drew with the pencil.
Step 4: Paint yellow in the center of his eyes. I used a lighter yellow.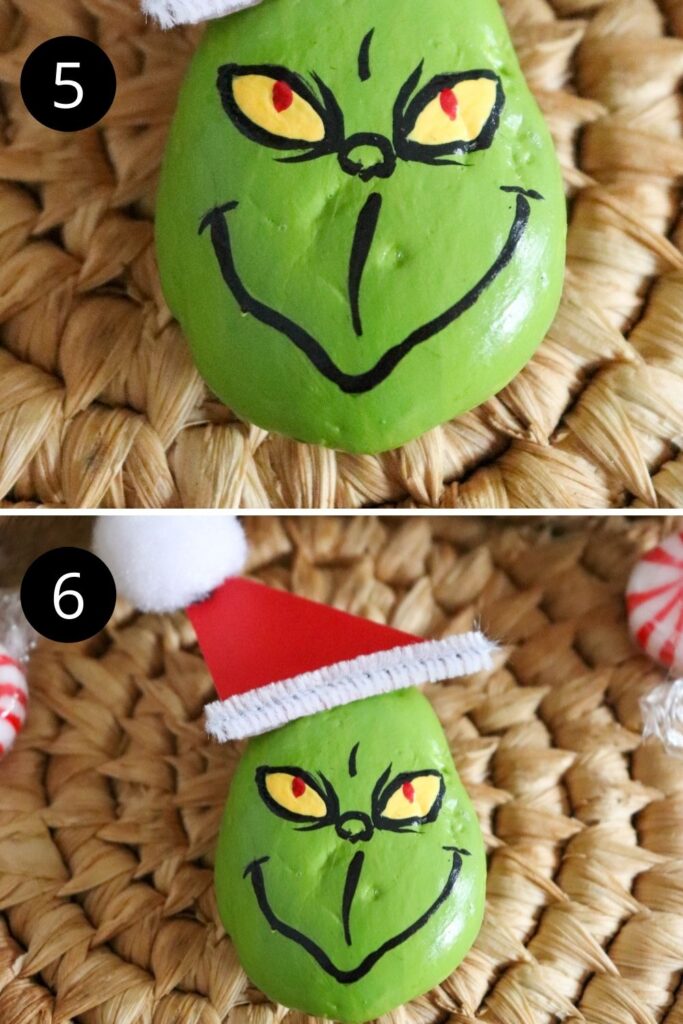 Step 5: Next, grab your red paint and finish off his eyes. Red is what I used for his pupils. If you want, do a coat or two of the Modge Podge for sealing the rock.
Step 6: Then you will glue on the Santa had, and your Grinch painted rock is complete.
Expert Tips
Here are a few expert tips for making this Grinch rock painting! A fun and easy DIY rock painting guide.
Feel free to use paint markers in replace of acrylic paint for this rock craft.
Add a little putty on the back side of the rock to hold it into place as you paint it.
I prefer to use a set of brushes that has really small tips, for little work like this.
The modge podge is optional. It is the way to seal the rock art, and help it from preventing chips.
Have fun doing other Christmas painting ideas with paint or paint pens.
I recommend river rocks for painting rocks!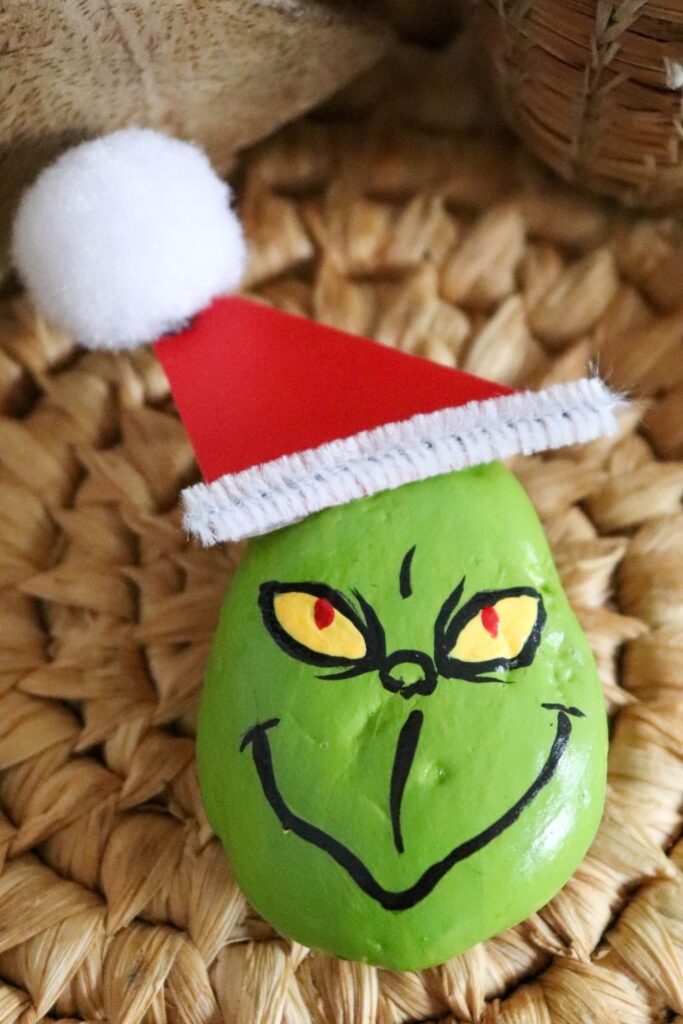 FAQs
What is the best rocks to use for painting rocks?
River rocks are a great option as they are flat. You want to have a smooth surface, that way you can get a clean slate for painting.
What type of paint to use for painting rocks?
Acrylic paint is what I recommend for painting rocks. You can use other varieties of paint, you just want to ensure it sticks to the rock.
How to seal painted rocks?
Reach for a modge podge or even a sealer to spray over the top of the rock. I used a modge podge, and did 2 coats to ensure it is sealed all around.
What to do with painted rocks?
Put them out on display, gift to a loved one, place on a mantle to display. Feel free to do whatever you want. You can even place your rocks outside in your garden, around your walkway, etc.
More Christmas Ideas
Yield: 1 rock
Easy Grinch Painted Rock Craft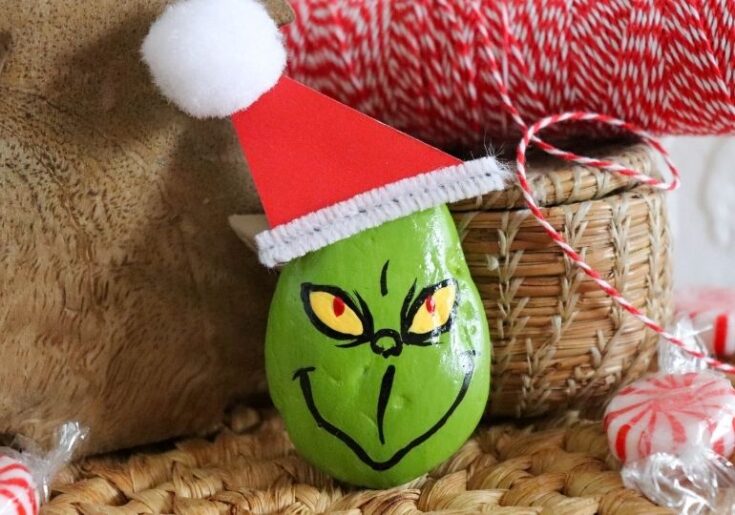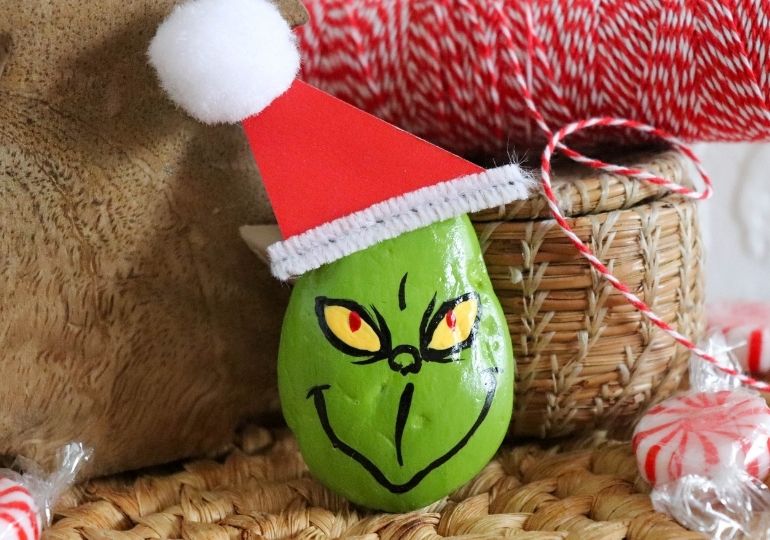 Learn how to paint this Grinch Painted Rock! A fun and festive Christmas rock art to put on display or gift a loved one. A super easy river rock painting idea.
Additional Time
30 minutes
Total Time
1 hour
5 minutes
Materials
Green Acrylic Paint
Yellow Acrylic Paint
Red Acrylic Paint
Tools
Scissors
Pencil
Hot Glue Gun
Glue Stick for Glue Gun
Instructions
Start by painting your rock green. You might need to do 1-2 layers of paint, depending on the color.
Let the rock completely dry and then work on the scetch of the Grinch face. The Grinch eyes are like the shape of a sunflower seeds out of the shell.
Add on the little round nose, some wrinkle lines, and the big grin.
Now begin to paint the face with the black paint, and allow it to dry.
Paint the grinches eyes yellow, allow to dry, and then do the pupil of the eye red.
Once the Grinch rock is done, seal with modge podge.
For the hat, you will cut 1.5 x 1.5" triangle. Then you will cut 1.5" pipe cleaner, and glue on the bottom of the hat. Add a pom pom on top with hot glue.
Once the rock is dried, hot glue the hat on top.
Notes
Expert Tip: Place a bit of putty on the back side of the rock, to hold it into place as you work on it.
If you need help with sketching, feel free to look online, or view the picture I did to mimic it.
Feel free to use smaller or larger sized rock.
Recommended Products
As an Amazon Associate and member of other affiliate programs, I earn from qualifying purchases.