Looking for a reward chart? If so this printable reward chart for kids is a great way to get your kiddo feeling motivated to reach their goal. This is a free sticker chart printable.
Let your kids add a sticker to each block to make their way down to the finish block to earn the reward of choice. A great way to create incentive to get your child more motivated.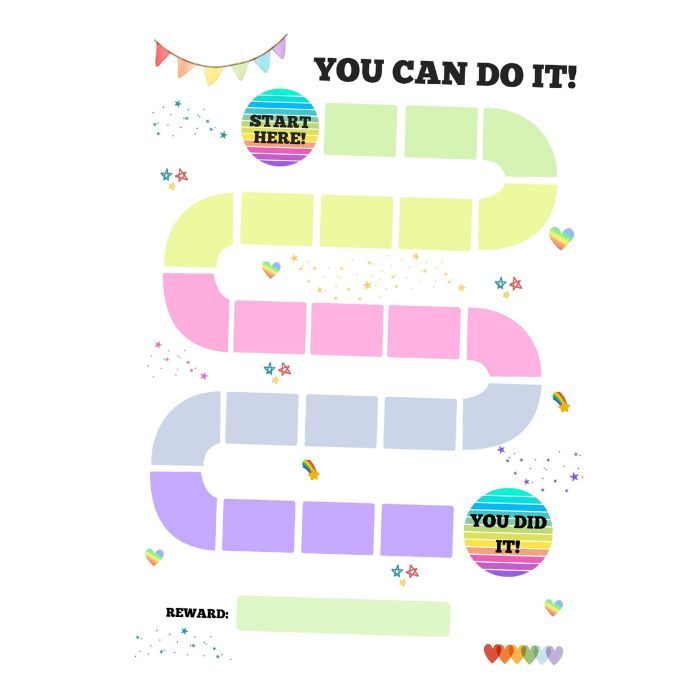 Table of contents
Benefits Of A Rewards Chart…
Positive behavior
Learn new skills
Tangible rewards
Good habits
Good behavior chart
Fun way to create a reward system
Responsibility chart
Why Use A Reward Chart For Child?
Using a reward chart is a great way to praise positive actions from your child. Or if you are looking to work towards a desired behavior it is a great way for your child to see they are truly working towards something.
The colorful illustrations on the printable reward chart is a helpful tool to draw them in to get excited to complete the patch from start to finish. This simple chart is a good practice for them to see working hard towards a goal pays off.
They will also see negative consequences of not getting a sticker or a block checked off if they do not follow what is expected of them.
What Age Do Reward Charts Work?
You will find a reward chart can work for any age, but they are generally focused on from ages 3-8. They will get excited for working towards the task, behavior, etc.
How To Use Printable Reward Chart
Download the Free Reward Chart Printable
Print on Printer paper or Cardstock
Write what reward you want your child to work towards
Place on fridge or somewhere in home for easy access.
Add stickers or mark off with a marker for each day completed to work towards the bottom of path.
It is super easy to start using. If you don't own a printer, you can use stores like Staples or print stores to print off the printable for a price.
Tips For Your Chart
Laminate the chart and then you can re-use it over and over again.
If you laminate use dry erase markers for marking off the chart.
If you are working with a little kid add a picture of the reward on the chart.
Want more fun printables